The Cincinnati Years
Marvin Jones Jr was drafted in the 5th round of the 2012 draft by the Bengals. Jones started his final two seasons at California and posted 62 catches for 846 yards as a senior, but was overshadowed by his younger teammate, Keenan Allen. Jones was a favorite of many draft analysts after excelling at the Senior Bowl and ripping off a 4.46 forty-yard dash at the NFL Combine. He fell to the fifth round in part due to the depth of the wide receiver class (which was lauded at the time as one of the deepest receiver drafts in years).
Jones quickly proved to be a late-round steal for the Bengals. He earned a starting job as a rookie (starting five games) and showed flashes of his top playmaking ability, but had trouble staying healthy and was limited for much of the season. He broke out as a second-year player in 2013. While Jones saw just 80 targets, he was one of the league's most efficient players, averaging 9.0 yards per target. He also scored 10 touchdowns on just 51 receptions. Jones was expected to ascend to a bigger role in 2014, but ankle and foot injuries forced him to miss the entire season. Jones returned healthy in 2015 and put together a strong season as the Bengals starting outside receiver opposite A.J. Green. Jones was second on the team in targets (103) and caught 65 passes for 816 yards and four touchdowns.
Skill-set
Marvin Jones Jr has a well-rounded game. He has the solid route-running and size (6'2, 199) to operate effectively as a possession receiver. He has proven especially adept at working along the sideline in the intermediate game, flashing an uncanny ability to always get two feet down in-bounds. Jones' 4.46 speed and leaping ability also makes him dangerous as a deep threat. Jones is also an underrated weapon on screens and quick passes, flashing above-average run-after-the-catch skills.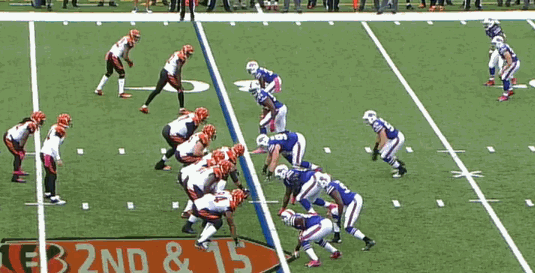 Who is #1 in Detroit?
With nearly identical offers on the table from both Cincinnati and Detroit, Jones chose the Lions due to the opportunity to compete to be the top pass-catcher on the team. "Obviously I'm here for a reason, and that goes back to the opportunities," said Jones when asked about his decision to sign with Detroit. Marvin Jones Jr probably should not be going off the board ~40 picks behind Golden Tate, especially in standard scoring leagues (current ADP has Jones 88th while Tate is 49th overall). Whereas Jones notched 10 touchdowns in his only year playing without both A.J. Green and Tyler Eifert, Golden Tate has never scored more than seven touchdowns in a season. While most in the fantasy community are assuming Tate will be the clearcut #1 in Detroit, Lions beat-writer Dave Birkett actually predicts that Jones will be the team's top receiver. He projects Jones to catch at least 80 passes for more than 1,000 yards and ranks Jones higher than Tate on his ranking of the team's best players, noting: "Jones and Golden Tate will share the billing as the Lions' No. 1 receiver this year, though neither is a No. 1 in the true sense of the word. Jones ranks a tick higher on this list because he'll play mostly out of the X position, like Calvin Johnson did." Even if Marvin Jones Jr doesn't pick up all of the 149 targets that Calvin Johnson received as the X-receiver last season, he should see well over 100 and has a great shot to lead the team in receiving yards and touchdowns.
Positives
1. Per Target Numbers - Since 2013, Jones has averaged an impressive 8.4 yards per target. With 14 touchdowns on just 183 targets, his touchdown per target rate of 7.7% is also excellent. Production has never been an issue for Jones. He just needs more opportunity.
2. Targets Should Increase - The Bengals ran a run-heavy offense (26th in the league in passing attempts) and were loaded with talented receivers (Jones, A.J. Green, Tyler Eifert, Giovani Bernard and Mohamed Sanu). The Lions as a team will throw the ball more and Jones should get a bigger chunk of that pie as well. He will not be behind a pair of talents like Green and Eifert in the pecking order for red zone targets.
3. Ascending Player - Jones just turned 26-years old in March and has only 21 career starts under his belt. He has improved in each of his three NFL seasons and is still approaching his prime years.
Negatives
1. New Offense - While Jones has spent extra time with Stafford this offseason and his integration into the Detroit offense seems to be proceeding smoothly, there are always unknowns and a bit of a learning curve moving into a new system.
2. Increased Defensive Attention - Will Jones be able to keep up his impressive per target production without A.J. Green drawing double teams across the field from him?
3. Uncertainty of Role - The reasonable range of target projections for Jones is larger than it is for most established players. We are all mostly guessing at just how large his role will be in Detroit until we see how targets are distributed between Jones and Tate. The recent signing of Anquan Boldin also complicates things as he is an upgrade to the weak group of receivers backing Jones and Tate. Plus, there is always the chance that the light finally goes on for third-year tight end Eric Ebron and he emerges as a go-to option.
Final Thoughts
Marvin Jones Jr and Matthew Stafford are talented enough to believe Jones can maintain his per-target production from recent seasons. The biggest question is how often Jones will be targeted in Detroit. Expect him to see upwards of 120 targets, which at his historical rate of production would produce a solid WR2 fantasy season.
Projected Stats Based on Historical Production Per Target
Projections
Other Viewpoints
Jeff Haseley, Jeff Pasquino and Matt Waldman all view Jones as one of their top value plays at Wide Receiver. Pasquino notes:
"Jones produced solid numbers last year in Cincinnati (65-816-4) on just 103 targets – a number he could easily surpass this year with the Lions. Jones has 1,000-yard upside and could perform as a fantasy WR2, but is available long after 35+ wide receivers go off the board. That screams value to me."
Dave Birkett of the Detroit Free Press projects Jones to catch at least 80 passes for more than 1,000 yards. He ranks Jones as the fifth best player on the Lions in 2016:
"Jones and Golden Tate will share the billing as the Lions' No. 1 receiver this year, though neither is a No. 1 in the true sense of the word. Jones ranks a tick higher on this list because he'll play mostly out of the X position, like Calvin Johnson did. He's not Johnson, of course, and that shouldn't be confused. But he's got enough speed to be a viable deep threat and he did catch 10 touchdown passes in 2013. Based on opportunity alone, Jones should set career-highs for catches and yards this fall as the Lions divvy up the production in their offense. He won't command regular double-teams or outjump three defenders for balls, but he's a steady player who will be a big part of the offense."
Matt Waldman notes the similarities between Jones and Emmanuel Sanders two years ago when he left for Pittsburgh and thinks a change of scenery could provide Jones a big boost as well:
"Jones' ability to stop fast, drop his hips, and set up defenders with crisp, disciplined routes makes him a capable possession complement in the way that Emmanuel Sanders was considered a third wheel in Pittsburgh before he lit it up in Denver."
---
More articles from Dan Hindery
See all
More articles on: Analysis
See all
More articles on: Spotlight
See all