The MyFBG tool is arguably the single best tool available to Footballguys subscribers. Do you have a question about which players to start, based on your league's scoring format? MyFBG will be your guide for that, plus so much more. Fantasy leagues have different settings and scoring formats, which can make lineup decisions different for each one. This tool provides you with customized information for one league or multiple leagues. Basically, we do all of the work for you and provide you with the key information you need to know for weekly decisions. This step by step process will show you exactly how to set up your league(s).
WHAT CAN MYFBG DO?
Create multiple league profiles catered to each league's scoring format.
Create custom weekly cheatsheets for each league's profile. Use projections from your favorite Footballguys experts to determine which players you should start each week.
Receive player news, analysis and matchup information for all of your players in each league's profile.
View a customized Top 200 going forward list based on each league's scoring format
View customized Points Allowed and strength of schedule numbers for every position (including IDP) based on each league's profile.
Check the status of your entry in the subscribers contest
GETTING STARTED
STEP 1: Create a league profile here ---> http://subscribers.footballguys.com/myfbg/myaddprofile.php. If your league is hosted by one of the sites in STEP 2, you only need to enter a profile name and then click submit at the very bottom. Otherwise, complete the profile by entering league settings and scoring details.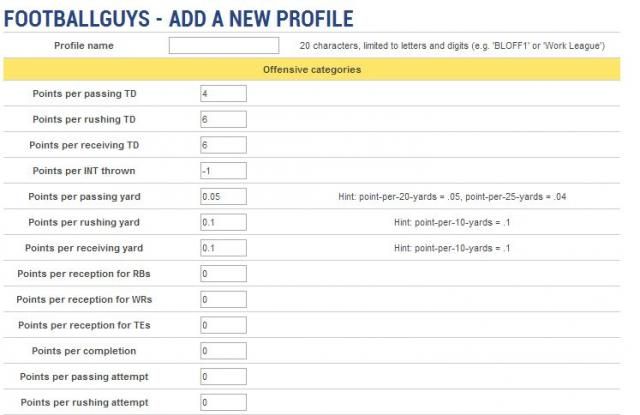 Don't forget to click Submit at the bottom
STEP 2: Your league profile is created. Is this league hosted at any of the following sites below? If so, go to step 2a. If not, go to step 4.
STEP 2a: click the appropriate link above for the league hosting site you are looking to synch from and then follow the instructions. Here you will enter the URL to your online league, and (depending on where it's hosted) possibly your password for that site and league (note: not your fbg password). Move to step 3.
STEP 3: link the profile created in STEP 1 to the online league imported in STEP 2a by selecting the appropriate profile and league under STEP 3 on this page ----> http://subscribers.footballguys.com/myfbg/myaddpmfleague.php. Go to STEP 5.
STEP 4: Add players to your roster manually here ----> http://subscribers.footballguys.com/myfbg/myaddmanually.php. If the text box doesn't work, you can click on one of the positions below it to add players the old way.
STEP 5: go check out one of the inseason features, e.g. the weekly cheatsheets. From this page --->http://subscribers.footballguys.com/myfbg/my.php , find "my weekly cheatsheet (inseason)." Select the profile you want to see a cheatsheet for, and then click the "view cheatsheet" button. Your players should be highlighted.
Review: By now you should have created a league profile and then either entered the scoring paramters manually or the most preferred method, synching your league via the process in Step 2 and Step 3 above. It's best to synch your league - more on why that's preferred later. Repeat the same process for any other league's you wish to create a profile for.
INSEASON FEATURES
Now that you have your league profile(s) created and synched to your league, you can access customized information like weekly cheatsheets, player news & analysis, matchup information, etc. Simply select which projector you want to pull data from, choose the position and lastly choose the league.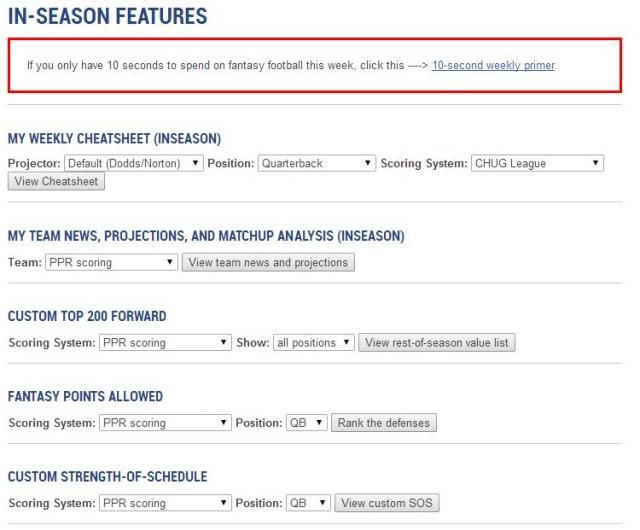 CUSTOM CHEATSHEETS
When you synch your league's settings and scoring format, not only does it integrate your team's information, but also the information of all the other teams in your league. (Note, this is not possible if you manually enter in your league's settings and scoring format). The example below shows custom information from the Cornerback position in one of my IDP leagues. I chose this so you can see the available player options that are free agents. My players are highlighted in yellow, while free agent players are highlighted in light blue. You can also highlight other team's players by clicking on the link of their team name.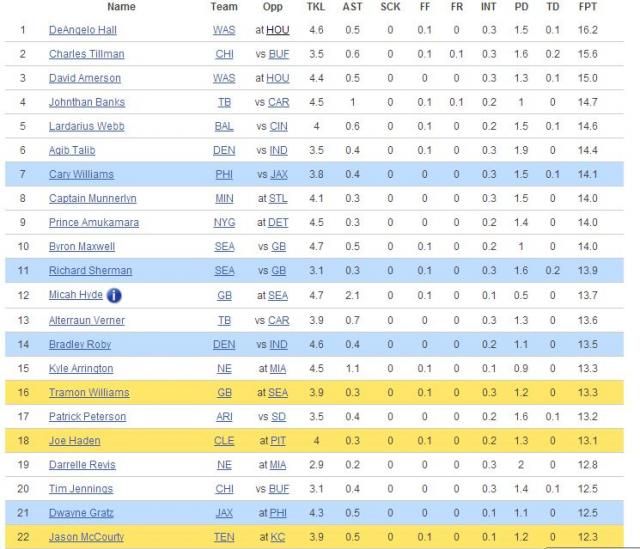 MY TEAM NEWS, PROJECTIONS, ANALYSIS AND MATCHUPS
By selecting this option, you can view customized weekly projections, news for players in your league, as well as analysis and matchup information (analysis and matchup information available mid-week)
Examples shown below
The 10-second weekly primer will inform you which players you should start, based on the projections catered to your league's settings. If you have multiple leagues, they will all be included in this report, displaying which players you should start for each one. Brilliant!
IN-SEASON FEATURES
NEW: If you only have 10 seconds to spend on fantasy football this week, click this ----> 10-second weekly primer.
Your suggested starters are in black, your backups are in gray. Free agents rated higher than your starters are in blue, other potentially notable free agents are in light blue.
---
EXAMPLE LEAGUE WEEK 1
Rosters last synched 5 minutes ago (synch now)
DAVID DODDS SAYS:
QB: Drew Brees (26.8), Carson Palmer (22.3), Geno Smith (22.3), Ryan Fitzpatrick (21.6), Josh McCown (21.2), Shaun Hill (20.1), Derek Carr (19.6)
RB: DeMarco Murray (15.2), Joique Bell (13.7), Frank Gore (11.7), Jeremy Hill (8.1), Jacquizz Rodgers (7.7), Dexter McCluster
(7.6), Robert Turbin (5.5), Benny Cunningham (5.5), Jonathan Dwyer (4.4), Bobby Rainey
(4.4), Marcel Reece (3.9), Lorenzo Taliaferro (3.8)
WR: Roddy White (14.7), Mike Wallace (13.5), Kendall Wright (12.9), Rueben Randle
(12.2), Justin Hunter (11.3),Donnie Avery (10.1), Andrew Hawkins (10.1), Jeremy Kerley (8.9), David Nelson (8.8), Mohamed Sanu (8.6), Lance Moore (8.4)
TE: Julius Thomas (16.7), Marcedes Lewis (9.8), Travis Kelce (9.6), Anthony Fasano (8.6), Brent Celek (8.6), Mychal Rivera (8.4), Zach Miller (8.3), Austin Seferian-Jenkins (6.3)
DAVID DODDS SAYS:
PK: Cody Parkey (8.2), Brandon McManus (8.1), Robbie Gould (7.9), Shaun Suisham (7.4), Greg Zuerlein (7.4), Nick Folk (7.4)
DAVID DODDS SAYS:
Def: Pittsburgh Steelers (8.5), New York Jets (8.3), San Diego Chargers (7.8), Washington Redskins (7.7), Tennessee Titans (7.5), New York Giants (7.4), Oakland Raiders (7.3), New Orleans Saints (7.3), Green Bay Packers (7.2)
FINAL THOUGHTS
You want it? You got it. Are you wondering who to start at that crucial position this week? The MyFBG tool will give you the answer. It's like having David Dodds, Sigmund Bloom, Maurile Tremblay, John Norton and Mike Herman telling you who they would choose for your lineup based on your league's scoring format. How great is that? If you are a Footballguys subscriber, you absolutely need to be using this tool every week. When it comes to fantasy football projections and decisions, Footballguys is the best. Let us help you Dominate Your League!
Questions, suggestions and comments are always welcome to haseley@footballguys.com
---
More articles from Jeff Haseley
See all
More articles on: Tools and apps
See all