We are three weeks into the season and the fantasy landscape is starting to take shape. This week I'll take a look at the top 15-20 players by fantasy points (PPR scoring) from each skill position, and provide my take on which players belong and which are destined to decline.
Quarterback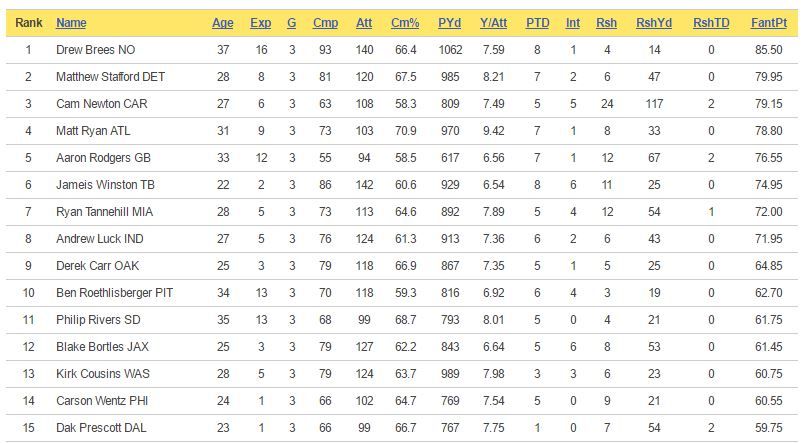 What sticks out to me here is the presence of all four NFC South quarterbacks in the Top 6. Watching the NFC South is going to be fun this year. The NFC South also looks like a hotbed for fantasy production. Here's the NFC rankings for points allowed through three games (1st being most points allowed)
1st TB - 101 points
2nd NO - 96 points
4th ATL - 91 points
8th CAR - 70 points
All four quarterbacks Drew Brees, Cam Newton, Matt Ryan and Jameis Winston may not stay in the Top 6, but it's looking like they will be constant members of the Top 10. I'd be shocked if two of them aren't in the Top 5 all season based on the first three games and all of the divisional games still to come.
Matthew Stafford belongs here. Looking at games from Week 10 on last season, Stafford ranked 5th best. I had to do a double take when I saw that - 5th best? Stafford? Jim Bob Cooter and "Cooterball" is alive and well in Detroit and Stafford has weapons. He may not stay with a 2nd place ranking, but there's definitely a degree of trust involved in him. He also still has two more games against Chicago, starting this week.
Ryan Tannehill is ranked 7th which is not bad considering he had two road games at Seattle and New England. He did have the good fortune of playing Cleveland (at home), but his best production game came against the Patriots. Maybe there is something to this Adam Gase fella? I can see Tannehill hanging around the Top 10-12, but I would not put him in the QB1 range, which would all but indicate him as a weekly fantasy starter. I'm that confident in him just yet.
Other notable additions worth talking about include Derek Carr. I like the Oakland offense. I see an improvement over last year, but maybe we should temper expectations on Derek Carr. He's only ranked 9th after playing New Orleans, Atlanta and Tennessee in the first three games. It feels like he should have better stats. Perhaps the five rushing touchdowns for the team has something to say about that?
Kirk Cousins has the yards to be on this list, but he has struggled from the red zone, completing 7-for-22 passes for 48 yards, 1 touchdown and 2 interceptions. That will need to improve in order for him to stay in the Top 15. The NFC East is not a cakewalk division this year. The Giants and Eagles have proven to be formidable defenses, plus Washington will play Minnesota, Carolina and Arizona. I'm not loving his matchups, although he does get Cleveland this week.
Not pictured - Eli Manning. Manning is 17th on this list, but he is approximately 4 points away from being in the Top 10. It does not get easy for him or the Giants with upcoming games at Minnesota, at Green Bay, Baltimore, at Los Angeles, bye and then home vs. Philadelphia. That's a pretty tough schedule coming up. Those who drafted Manning may want to seek out other options until November. On the other side, the Giants already weak ground game has been hit with injuries and they nearly always use three wide receiver sets as their base offensive package. In other words, Manning should be throwing a ton. If he can get past these next two games with decent numbers, he should be fine, but if you have other options, I'd consider them.
Running back
There's a ton of surprises here. Nearly everyone is a surprise. David Johnson is the only Top 10 back that was drafted as a Top 10 back. C.J. Anderson, Devonta Freeman, Ezekiel Elliott, Matt Forte, LeSean McCoy and maybe Carlos Hyde and Latavius Murray are the only others who were remotely close to their preseason draft ADP. This definitely supports the notion of using the upside down drafting strategy or "zero-running back" strategy.
Le'Veon Bell and Jamaal Charles are coming back, but I don't see them completely taking over as their team's workhorse running back. Both Pittsburgh and Kansas City would be ill-advised not to include DeAngelo Williams and Spencer Ware in their game plan. We've seen the RBBC approach work with Atlanta and it keeps both, capable backs fresh and healthy.
What if there's an injury? There's always injuries. Proactive waiver claims and roster stashes are a big part of fantasy success. If DeMarco Murray goes down, Derrick Henry becomes a weekly starter. The same can be said for David Johnson and Chris Johnson. LeSean McCoy and Jonathan Williams - don't forget about Williams, who returns from a four game suspension in a week. The Bills new offensive coordinator, Anthony Lynn has indicated the running game (especially with Sammy Watkins out) is an area that needs to utilized. We saw this first hand against Arizona.
Not pictured includes many, but the main ones are Todd Gurley, Lamar Miller, Mark Ingram II, Eddie Lacy, Doug Martin, Thomas Rawls, Arian Foster, Jonathan Stewart, etc. Some of these may rebound to the Top 20, but others won't, whether it's injury related or not. It's the cycle of an NFL running back. Here one day, gone the next. In order to stay on top of things you need to have some luck, skill to see opportunities, and ability to make trades, especially buy low trades.
It's early but the rules of thumb are starting to take shape. Generally speaking stay away from these opponents for rushing: NFC North and NFC East, particularly MIN, GB, PHI, NYG. Exploit these opponents: AFC West and NFC South particularly NO, ATL, OAK, DEN, KC
wide receiver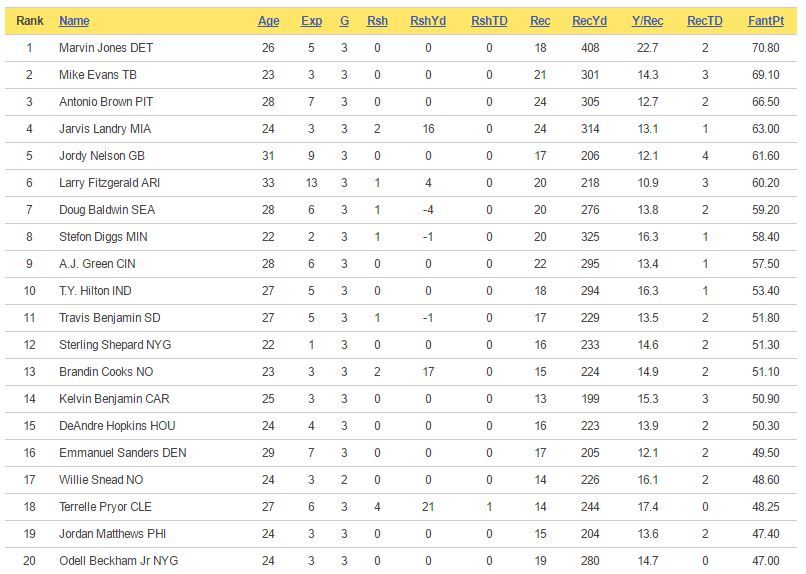 Marvin Jones Jr is ranked 1st and Odell Beckham is 20th. Julio Jones didn't even crack the Top 30 I don't see that lasting, but there's still some truth in the reasons for why those receivers are ranked where they are. We heard offseason chatter that Marvin Jones Jr was going to be the team's primary target for Matthew Stafford and now it's coming to fruition. Golden Tate may be second on the team in targets but he's fifth in receiving yards. Anquan Boldin is the better play than Tate right now. Will that continue? Hard to tell, but 7.2 yards per catch is awfully low for Tate. The Lions are a pass-happy team, so there is reason to be optimistic there. That can also be true for Marvin Jones Jr' ability to stay in the Top 10.
Stefon Diggs is another surprise and Sam Bradford is a big reason why. Bradford and the Vikings may not be a heavy pass attempts team, but right now, Diggs is making good on his targets and gaining a ton of yards after the catch. I don't see Diggs as a Top 10 wide receiver simply because I don't see the Vikings passing offense supporting such a ranking. Travis Benjamin, Sterling Shepard, Willie Snead IV and especially Terrelle Pryor are big surprises. Benjamin is where he is mostly due to the Keenan Allen injury. Shepard is a jack of all trades, who is also finding the end zone. Teams are paying close attention to Odell Beckham leaving Shepard as an available option for Eli Manning. Willie Snead IV has benefitted from a potent Saints passing game, particularly Drew Brees. He's dealing with a toe injury that could linger for a few weeks, thus elevating Michael Thomas into the spotlight. I'm excited to see what the Browns will do with Terrelle Pryor once Josh Gordon returns in Week 5. If they can get Josh McCown back, they'll have a chance to field two rangy, capable receivers with fantasy potential.
Not pictured - Allen Robinson, Julio Jones, Demaryius Thomas, Alshon Jeffery, Brandon Marshall, Julian Edelman, Amari Cooper, Jeremy Maclin, Randall Cobb, Eric Decker, etc. Several of these receivers will make a jump into the Top 20. I'm confident in that. Injuries or matchups have been the key factors in their struggles.
Tight End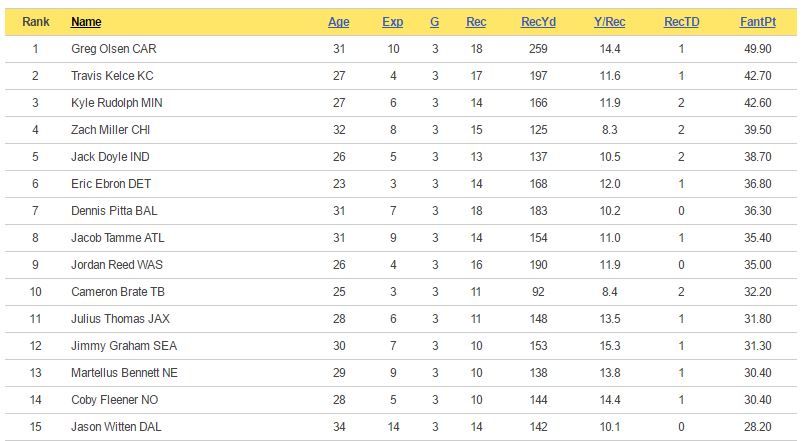 There's a lot of surprises at the tight end position also. Rob Gronkowski is the obvious absence from this list, but he should be back strong, and with Tom Brady on his side. Greg Olsen's place at the top is not unexpected, but seeing Zach Miller, Kyle Rudolph, Jack Doyle, Dennis Pitta, Jacob Tamme and Cameron Brate is a surprise. The battle is close between the 15th ranked Jason Witten and 4th ranked Zach Miller. Only 10-11 points separate the two. There's plenty of time and room for another player to emerge into a TE1 role.
The next three games will determine who stays and who goes in this list. Last year we saw Gary Barnidge elevate into the spotlight. This year it's guys like Jack Doyle and Dennis Pitta. Coby Fleener may have turned the corner in New Orleans which is an offense that can make anyone relevant. Look for him to continue to rise up the ranks into the Top 10. Remember, it took Ben Watson a few weeks to get his feet under him in Sean Payton's offense last season. Jimmy Graham looks promising, but I'm still not sure how Seattle will respond offensively with injuries to Russell Wilson. Jordan Reed needs to find the end zone and he'll be fine. That could come this week against Cleveland. If Reed still is on the outside looking in after the Browns game, then we can start to get concerned. As of now, it's not enough to be worried about. Jack Doyle has the upper hand on Dwayne Allen, but one game with big yardage or multiple touchdowns could catapult Allen into the lead in Indianapolis. Jason Witten is capable of being a Top 10 tight end. He was a yard shy of scoring a touchdown in Week 3 that would've put him in that range. Gary Barnidge may struggle to rebound, especially with the emergence of Terrell Pryor and the return of Josh Gordon. Barnidge becomes less of a priorty, unlike his situation last season. Delanie Walker (not pictured) is a big part of the Titans offense, especially with Tajae Sharpe struggling to fill the WR1 role. Walker could by default find himself being the team's top target. His hanstring injury won't keep him out long and the potential is there for him to have a big role this season.
Defense
There's not a whole lot of surprises in the Top 5. Minnesota's dominance against good offenses in Green Bay and Carolina is now well known. They have earned their spot at the top of the rankings and should stay inside the Top 5 this season. Buffalo's presence as the number two defense is rather shocking, especially due to a bevy of injuries the team has dealt with on defense. I like Rex Ryan and his defensive mindset, but I don't see the Bills staying this high in the ranks. Philadelphia is a team that could jump up in the rankings. They have double digit sacks and six turnovers. If they can find the end zone on defense, they'll take a leap forward for sure. The same can be said of the Patriots, especially once they get Rob Ninkovich back in Week 5 from his suspension, provided he's fully healed from his triceps injury. Don't shy away from the Ravens either. They have looked impressive this season and deserve some praise. Like Philadelphia and New England, they need to find the end zone. The Eagles and Ravens lead their conference in fewest points allowed and Baltimore is 2nd. They are on the cusp of being a dominant force as a defense/ST play.
Not pictured - Seattle is 29th in Defense/ST fantasy points. They have 8 sacks, but only one turnover. So far, this squashes the strategy of picking the top defense in the draft. Also not pictured, Pittsburgh is ranked 32nd with just one sack and four turnovers. Their pass rush has struggled to make an impact and teams are taking advantage. The writing is on the wall with the Steelers defense, especially if the sack totals don't improve.
Questions, suggestions and comments are always welcome to haseley@footballguys.com
---
More articles from Jeff Haseley
See all
More articles on: Analysis
See all