We all have our own personal hobby horses. Without question, mine is injuries; more specifically, the way the market reacts to injuries. Over my last two and a half seasons with Footballguys, I've already written a half-dozen articles that were either explicitly or implicitly about valuing injured players.
Like a dog with a bone, though, I'm just going to keep worrying at the subject until it's worn down to a nub. So with a few more catastrophic fantasy injuries on the ledger, let's talk about injured players. More specifically, let's talk about why I'm such a fan, and why I think you should be, too.
Why Do I Love Injuries?
It seems like an odd question to ask; I would never want any player to be hurt. To be specific, I do not love injuries so much as I love the opportunity that injuries present. And what opportunity is that? As a wise man once said, dented cans are half price. Let's start by looking at the top fantasy performers over the last three years.
Since 2013, the top five fantasy quarterbacks have been Drew Brees, Peyton Manning, Andrew Luck, Philip Rivers, and Tom Brady. Brees tore the labrum in his throwing shoulder so badly in 2005 that he could not pass a physical with the Miami Dolphins. Manning is the only player in history to return to football after spinal fusion surgery. Rivers tore his ACL in the playoffs after the 2007 season. Brady tore his early in the 2008 season. Also, notably absent from that list? Aaron Rodgers, who would have made it had he not missed half of 2013 with a broken collarbone.
How about the top 12 running backs? The list includes Jamaal Charles, who tore his ACL two weeks into 2011. It includes DeMarco Murray, who had earned the dreaded "injury-prone" tag after missing 9 games in his first two seasons. It prominently features Le'Veon Bell, who missed three games and was otherwise limited during his rookie year with a mid-foot sprain, and Eddie Lacy, who entered the league under concern about a toe fusion surgery he'd had in college. It includes LeSean McCoy and his scary concussion history, Frank Gore, who fell to the 3rd round in the NFL draft after tearing ACLs in both knees in college, and Arian Foster, who is nearly legendary now for his soft-tissue injuries.
Wide receiver doesn't look much different. Notable entries on the lists include Demaryius Thomas, who tore his achilles tendon back when such an injury was still considered a career-ender. It includes A.J. Green, who was quickly forgotten as a top-tier talent after struggling to play through a ligament strain in his toe last year. Julio Jones caused plenty of concern after he broke his foot for a second time.
And tight end might be the most injury-plagued group of the lot. The top names are Jimmy Graham, who has played through laundry list of injuries, and Rob Gronkowski who has missed time with a laundry list of his own. Also making the top five are Antonio Gates, who has had persistent foot injuries for years, and Julius Thomas, who essentially missed his entire first two seasons to an ankle injury before breaking out in his third year.
This quick run-through should hopefully illustrate two things. Sometimes great players get injured. Injuries tend to heal.
Had you been diligent about buying injured players when their value bottomed out in dynasty, you could be rolling out a team this year featuring Tom Brady at quarterback, Adrian Peterson and Todd Gurley at running back, Demaryius Thomas and Julio Jones at wide receiver, and Rob Gronkowski at tight end. Acquiring all of those stars today when they are fully healthy would be prohibitively expensive, but at the time of their injuries they were available for a fraction of their original price.
Similarly, if you tried to buy Le'Veon Bell a week ago, you probably would have had to offer the moon or risk being told to buzz off. But if the Le'Veon owner is a contending team that suddenly finds himself weak at running back? Well, let's just say things probably got a lot more interesting.
Turning an Easy Profit
Okay, so I kind of just wrote last week about how we should probably stop trying to buy low and sell high on players. So it might seem just a wee bit hypocritical of me to say it, but injured players present a phenomenal opportunity to buy low and sell high.
My problem with buying low and selling high is that it's exceedingly difficult to time the market. I feel like a giant asterisk is needed on that statement, though, that reads *except in the case of rookie picks and injured players. I wrote an entire article about how I knew for sure that injured players would see their value rebound. Here's a graph from that article, courtesy of Ryan McDowell of DynastyLeagueFootball.com. (Follow him on Twitter at @RyanMc23!)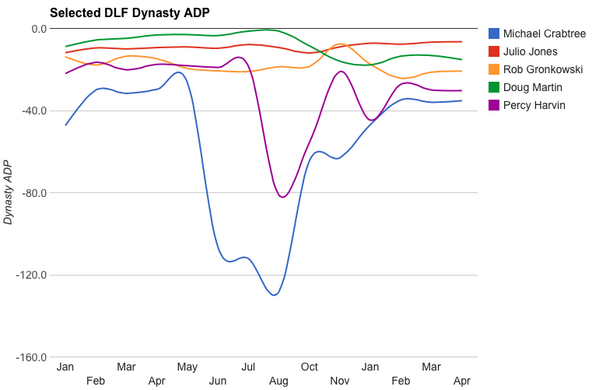 Not all injured players drop in value. But the ones who do fall hard and fast. Look at that plunge! More importantly, look at that rebound! When a player's value falls precipitously after an injury, it's a virtual lock that it will rebound in the months afterward, regardless of what the player actually does during that span. Percy Harvin re-injured himself during that stretch, and what happened? A second value plunge and a second value rebound. Short of retiring, there was virtually nothing he could do to not recoup his lost value.
So no, I don't believe in buying low and selling high. But if you do, here's your chance. Buy injured players, hold them through the season, and then sell them afterwards. There are easy profits to be made.
(Alternately, you could buy injured players because you really like them, they're available for a discount, and you hope they're going to wind up on one of those "best fantasy players over the last three years" lists I mentioned up top.)
How to Buy Injured Players
Let's ignore the obvious answer for a minute. (You buy injured players by making an offer.) The real question is "how do we overcome our inclination to overrate the present and bring ourselves to invest in the future?" I've written about this in more depth before, so for today I'm just going to highlight my favorite trick from that article.
The problem with investing in the future is that there are essentially two different versions of ourselves, (our future self and our present self), and only one of them can actually take any action. So to overcome our concern, it can help to picture our future self and imagine how pleased we are with our short-term sacrifice.
If you're a contending team in the title hunt, the idea of trading Mark Ingram II is nearly enough to cause physical pain. How on earth could you possibly give up a top-5 running back with the playoffs approaching?
But picture your 2016 self. Imagine it's August and you're looking at your team, preparing for the season. Imagine how good you will feel to move Le'Veon Bell into your starting lineup. How much will you look forward to starting him on week 1?
And what about the 2017 version of yourself? And the 2018 version? How many "Future You"s will look back and be grateful for the courageous sacrifice that "Present You" made today?
Science has shown that just picturing the future is enough to help break us out of our present-focused rut and make decisions that are in our best long-term interest. "2015 You" really wants that trophy. But "2016 You" is going to be in a title chase of his or her own could use the extra help.
A Brief List of Injured Players
To close, here is a brief list of players who are projected to miss the rest of the season, as well as where I have them valued in PPR dynasty leagues.
Follow the link for a full list of player values to get an idea for potential trade bait; I'd recommend focusing on players who are currently productive. The idea is to find a desperate owner who is looking to ease some of their own short-term pain. Charcandrick West for Arian Foster or Jamaal Charles? Mark Ingram II and a future 1st for Le'Veon Bell? Julian Edelman for Keenan Allen? Yes, yes, and yes.
You don't need to buy all of these players. Perhaps the owner in your league with Keenan Allen is also an avid reader and is wise to your games. The point isn't that all injured players will always be undervalued at all times. It's that injured players are often undervalued, and it's always worth it to spend a little bit of time to check.
And remember, there's more to injury discounts than just catastrophic injuries. Players like Jordan Reed and Tony Romo can earn "injury-prone" tags without missing entire seasons. In all instances, though, if I have a chance to take a good player who has been injured and bet that he might not be going forward, that's a bet I'm going to take.
---
More articles from Adam Harstad
See all
More articles on: Dynasty
See all
More articles on: Strategy
See all