On August 22nd, twelve members of the Footballguys staff got together for the site's 13th mock draft of 2015. Below is the league scoring format and bylaws. Our Chris Feery provides an in-depth evaluation summary of each team's draft. Each participant answers questions about their strategy and team.
LEAGUE PARAMETERS
12 teams
20 roster spots
Starting Lineup

1 quarterback
2 running backs
3 wide receivers
1 tight end
1 flex (either a running back, wide receiver, or tight end)
1 team defense
LEAGUE SCORING
Offensive Players

4 points - passing touchdown
6 points - rushing/receiving touchdown
0.04 points - passing yard
0.1 points - rushing/receiving yard
1 point - reception

Team Defense

6 points - touchdown
2 points - turnover recovered
2 points - safety
1 point - sack
10 points - Offensive points against: 0-0
7 points - Offensive points against: 1-6
3 points - Offensive points against: 7-14
0 point - Offensive points against: 15-99
AUCTION DETAILS:
$200 of auction dollars were available to all 12 teams
Players were nominated in a rotation cycle beginning with team 1 through team 10 and back to team 1 repeating the rotation again until all 12 teams filled their 20-man roster.
15 second timer upon nomination was used to determine the winning bid. The timer was also 15 seconds for each subsequent bid
Teams had 40 seconds to nominate a player when it was their turn in the rotation.
THE ROTATION ORDER
1. Jeff Haseley
2. Andy Hicks
3. Matt Bitonti
4. Mark Wimer
5. Dan Hindery
6. Daniel Simpkins
7. Jeff Tefertiller
8. Chad Parsons
9. Sigmund Bloom
10. Matt Harmon
11. Justin Howe
12. Matt Waldman
Starting with Team 1, we'll go over each team's winning bids
Jeff Haseley
| | |
| --- | --- |
| Player | Winning Bid |
| Anderson, C.J. DEN RB | $42.00 |
| Hilton, T.Y. IND WR | $33.00 |
| Abdullah, Ameer DET RB | $27.00 |
| Tate, Golden DET WR | $16.00 |
| Adams, Davante GBP WR | $13.00 |
| Watkins, Sammy BUF WR | $12.00 |
| Blount, LeGarrette NEP RB | $10.00 |
| Ryan, Matt ATL QB | $9.00 |
| Cameron, Jordan MIA TE | $8.00 |
| Johnson, Stevie SDC WR | $7.00 |
| Riddick, Theo DET RB | $4.00 |
| McFadden, Darren DAL RB | $3.00 |
| Rudolph, Kyle MIN TE | $3.00 |
| Sproles, Darren PHI RB | $3.00 |
| Daniels, Owen DEN TE | $2.00 |
| Gray, Jonas NEP RB | $2.00 |
| Palmer, Carson ARI QB | $2.00 |
| Quick, Brian STL WR | $2.00 |
| Crosby, Mason GBP PK | $1.00 |
| Patriots, New England NEP Def | $1.00 |
Overall Strategy:
Balanced approach
Evaluation
Haseley took a patient approach and waited awhile before securing his first winning bid. T.Y. Hilton was the 19th player auctioned and Haseley's bid of $33 was enough to get it done. A potential Top 10 wide receiver at a reasonable price is always a good start. Haseley's next two winning bids focused on the running back position with winning bids for Ameer Abdullah and C.J. Anderson at $27 and $42 respectively. Anderson was in the price range of other top running backs in this draft but he slightly overpaid for Abdullah. Melvin Gordon was secured for $22 a mere four picks later and is being drafted at a higher ADP in standard drafts. Gordon will be the RB1 in San Diego from day 1, while Abdullah will be part of a committee to start – although he may take over lead back duties as the season develops. Haseley balanced out the remainder of his roster and found some nice value. He secured the quarterback position with a potential Top 10 and a potential Top 15 for a total of $11. All in all a solid draft for Haseley, looks like he may have built a contender.
1. Do you have a certain rule for how much to budget for each position or does your strategy change depending on how the auction goes?
Auctions will vary, but generally I like to try to spend an equal amount of my money on running backs and wide receivers with considerably less at quarterback and tight end. I generally choose the minimum on a kicker and defense so I can allocate as much as possible to other positions.

Below is what I try to stay close to in a $200 auction budget. If I like a WR1 for less (like TY Hilton), it affords me the ability to splurge a little more on my WR2, WR3 and WR4 - which is what happened in this auction.

Position
$200 Budget
Running Back
RB1 No more than $45
RB2 $20-27
RB3, RB4, RB5 $15
Wide Receiver
WR1 No more than $45
WR2 $20-25
WR3, WR4, WR5 $15-20
Tight End
TE1 $10-14
TE2 $1-5
Quarterback
QB1 $8-13
QB2 $1-4
Kicker
K $1
Defense
Def $1
2. What was your best winning bid considering cost and value? Explain why you like that player this year.

This auction occurred one night before the Jordy Nelson injury, so I didn't realize how valuable Davante Adams would be when I won him for $13. Looking back, I spent a little more than I wanted for him, because there was a slight bidding war for him as a later nomination. It looks like a good decision now. My wide receiver corps has three WR2s in Golden Tate ($16), Sammy Watkins ($12) and the aforementioned Adams ($13). I like the value of all three.
3. Who is one player that you wish you were able to win? Explain why you like that player this year.
For me, it's John Brown. You can get him after many of the WR3s are off the board, but in an auction, you probably need to spend about $12-17 to secure him. I am expecting Brown to put up WR2 numbers and he's being drafted as a WR3 or WR4. The upside is big and if you draft him as your fourth wide receiver, the risk isn't as big. Arizona has talked about how they want to feed him more this year, which is music to my ears. He fits the mold of other smallish, gritty receivers that Bruce Arians coached (Hines Ward, Antonio Brown and TY Hilton to name a few).
Andy Hicks
| | |
| --- | --- |
| Player | Winning Bid |
| Nelson, Jordy GBP WR | $41.00 |
| Forte, Matt CHI RB | $38.00 |
| Gordon, Melvin SDC RB | $22.00 |
| Morris, Alfred WAS RB | $18.00 |
| Johnson, Andre IND WR | $16.00 |
| Hyde, Carlos SFO RB | $12.00 |
| Jackson, DeSean WAS WR | $11.00 |
| Romo, Tony DAL QB | $6.00 |
| Smith, Steve BAL WR | $6.00 |
| Manning, Eli NYG QB | $5.00 |
| Bridgewater, Teddy MIN QB | $4.00 |
| Langford, Jeremy CHI RB | $4.00 |
| Boldin, Anquan SFO WR | $3.00 |
| Patterson, Cordarrelle MIN WR | $3.00 |
| Tucker, Justin BAL PK | $3.00 |
| Davis, Vernon SFO TE | $2.00 |
| Ebron, Eric DET TE | $2.00 |
| Gates, Antonio SDC TE | $2.00 |
| Harvin, Percy BUF WR | $1.00 |
| Rams, St. Louis STL Def | $1.00 |
Overall Strategy:
Top 10 RB and WR
Evaluation
Hicks also waited patiently before securing the winning bid for his first player, Matt Forte, the 15th player auctioned for a winning bid of $38. His next two winning bids were also for running backs, Alfred Morris for $18 and Melvin Gordon for $22. The running back position locked down, Hicks was able to focus on balancing out his roster. He did make one more high-priced acquisition with the winning bid for Jordy Nelson (draft held prior to injury) at $41, a good price for a Top 5 wide receiver. Hicks did a nice job accumulating quarterbacks by securing the winning bids for three solid starters at a total cost of $15. His travels to the value section were largely fruitful, although I may have passed on Cordarelle Patterson at a price greater than $2. Looks like Hicks has built a solid team heading into 2015 and there are no glaring weaknesses.
1. Explain your strategy going into the auction

After the first staff Auction Mock Draft where I got 3 players within the first 7 or so names I decided to sit back this time, but I had to get one of my top 7 running backs and one of my top 7 wide receivers. I would hunt for value outside these 2 players and fill out the roster around the top 2 guys and the value players. The first 14 players were nominated, including most of the big names and then came Matt Forte, one of the 3 remaining running backs that would have satisfied my pre auction plan. I was prepared to go to $40 and got him at $38. Plan A achieved. The remaining top receivers went quickly except for my last one in Jordy Nelson. By now I had 3 running backs as Alfred Morris and Melvin Gordon went way below my price for them and I feel I got considerable value for my top 3 backs. Now I had to go all in to get Jordy Nelson, who was my 3rd rated receiver. His price was well within my expectations and the 2nd part of my main plan was achieved. Carlos Hyde was another value running back and with 4 of my top 16 backs I only had to spend 45% of my budget. Add in Jordy Nelson and I still had quite a bit of money to get my choice of the other positions.
2. You won Jordy Nelson with a $41 bid, the highest you spent on a player. His injury occurred one day after this took place. Explain what you would do to fill the void of a star player on your roster.

To anyone who has drafted already and has Jordy Nelson (or Kelvin Benjamin), I can sympathize. Unlike this auction, where I regret not spending an extra dollar or 2 to get Davante Adams, which was in my plans once I landed Nelson, you can recover from the loss of a key individual with hard work and a little bit of luck. For starters if a star player is lost you have to ask yourself who, if anyone can step in. Footballguys have a lot of What would happen if.... was lost for the season articles to help in this regard, but also other great articles like the Jordy Nelson article soon after his injury

Analyze the team dynamics of the player lost. Can the backup players be productive or will the work be spread around? In this case I feel that Davante Adams is the best bet, but a punt on Jeff Janis, Ty Mongomery or Jared Abbrederis wouldn't go astray either. Aaron Rodgers can make a star out of any young receiver if they are good enough. Apart from that be an early player on the waiver wire in the early weeks of the season. This is a very productive option to get a star or 2 that surprises everyone eg Justin Forsett last year. Another way would be to sacrifice a high draft pick to get 2 very good players. Hopefully you drafted with depth and have a player to cover eg the Jordy Nelson owner could have drafted Davante Adams or the Kelvin Benjamin owner could have drafted Devin Funchess. Or they could have a young receiver ready to break out deep in their draft. If you have a player that another owner really covets, you can use this to your advantage . Look at 2 players on their roster you can grab. Some owners almost give up after a big injury. If you work hard to make something happen, you'll be surprised at how quickly you can turn it around.
3. What part of the auction is most critical to your team's draft success? Beginning, Middle or End? Explain your answer.

Without sounding like a fence sitter, each part of the draft is equally important. In the Beginning of an auction everyone has lots of money and some are reckless with it. Everyone wants the star players, but you will always have owners that overpay in this phase and take too many players. One owner here was left to get 15 $1 players. The beginning is an excellent time to take advantage of owners that are reckless. As long as you like a player, if you see another owner who is quickly spending money, bid them up a dollar or 2. You'd be surprised how often they will keep bidding. The adrenaline is running.

The middle part of the draft is where you should be on top of your game. A few owners will have no money. Some owners will get cute and won't have spent a penny. Some owners with money are full at a position. This is where you can get great value. With half of the bidders out of action on any player, you can take advantage and get half your squad here. Have a set price for every player and if the value is there, grab them. You can never not have enough good players.

The end is also vital. By now half the owners are desperately trying to fill rosters with cheap players and a couple of owners have way too much money and will end up spending $13 on a kicker at the end. The rest are perfectly poised.
In this draft the following players went for $3 or less: - Colin Kaepernick, Jay Cutler, Sam Bradford, Tre Mason, Bishop Sankey, Alfred Blue, Anquan Boldin, Pierre Garcon, Dwayne Bowe, Kenny Stills, Kyle Rudolph and Antonio Gates. For $40 you could have had them all. Before you make your final big bid in the middle part of the draft analyze which players are left and decide if you want quality from 8 players or 1. The auction is the perfect format to have depth at all positions for a minimal price. Don't spend big early, get key players and pay attention to what the other drafters are doing.
Matt Bitonti
| | |
| --- | --- |
| Player | Winning Bid |
| Brown, Antonio PIT WR | $47.00 |
| Forsett, Justin BAL RB | $31.00 |
| Allen, Keenan SDC WR | $25.00 |
| Ivory, Chris NYJ RB | $17.00 |
| Barth, Connor DEN PK | $13.00 |
| Maclin, Jeremy KCC WR | $12.00 |
| Stafford, Matthew DET QB | $9.00 |
| Cruz, Victor NYG WR | $8.00 |
| Fitzgerald, Larry ARI WR | $8.00 |
| Coleman, Tevin ATL RB | $6.00 |
| Rivers, Philip SDC QB | $4.00 |
| Thomas, Julius JAC TE | $4.00 |
| Walker, Delanie TEN TE | $4.00 |
| Blue, Alfred HOU RB | $3.00 |
| Garcon, Pierre WAS WR | $3.00 |
| McKinnon, Jerick MIN RB | $2.00 |
| Jets, New York NYJ Def | $1.00 |
| Polk, Chris HOU RB | $1.00 |
| Taliaferro, Lorenzo BAL RB | $1.00 |
| Wheaton, Markus PIT WR | $1.00 |
Overall Strategy:
Stud WR and balance
Evaluation
Bitonti pounced on the consensus WR1 and then sat on the sidelines for a bit. A $47 bid was enough to secure the services of Antonio Brown. Bitonti took a value approach to running back and quarterback while nicely balancing out his collection of wide receivers with mid-range and low-cost options. At least one pick at each of the positions could turn out to be a steal at the prices paid. Phillip Rivers for $4, Tevin Coleman at $6 and Markus Wheaton at $1 are all in line to outperform their price points. Rivers has Top 10 quarterback upside, Coleman could end up with the bulk of the work in Atlanta and Wheaton – whether he winds up as WR2 or WR3 in Pittsburgh – should produce nicely in what figures to be a high-powered offense. A very balanced draft for Bitonti, if some of his bargain bin values come through he will be in contention.
Mark Wimer
| | |
| --- | --- |
| Player | Winning Bid |
| Thomas, Demaryius DEN WR | $41.00 |
| Randle, Joseph DAL RB | $22.00 |
| Olsen, Greg CAR TE | $19.00 |
| Murray, Latavius OAK RB | $18.00 |
| Bennett, Martellus CHI TE | $17.00 |
| Wilson, Russell SEA QB | $17.00 |
| Brown, John ARI WR | $14.00 |
| Agholor, Nelson PHI WR | $13.00 |
| Crowell, Isaiah CLE RB | $9.00 |
| Royal, Eddie CHI WR | $7.00 |
| Funchess, Devin CAR WR | $6.00 |
| Cobb, David TEN RB | $5.00 |
| Bills, Buffalo BUF Def | $4.00 |
| Coleman, Brandon NOS WR | $2.00 |
| Baldwin, Doug SEA WR | $1.00 |
| Bullock, Randy HOU PK | $1.00 |
| Bush, Reggie SFO RB | $1.00 |
| Kaepernick, Colin SFO QB | $1.00 |
| Kearse, Jermaine SEA WR | $1.00 |
| Packers, Green Bay GBP Def | $1.00 |
Overall Strategy:
Conservative approach
Evaluation
Wimer took a conservative approach with only one high-priced acquisition – Demaryius Thomas at $41. He found some nice values that he didn't have to overpay for in Russell Wilson at $17, Joseph Randle at $22 and Nelson Agholor at $13. Wimer also loaded up on tight end by winning the rights to two potential Top 5's at the position in Greg Olsen at $19 and Martellus Bennett at $17. I see value in the approach Wimer took and admire the discipline it takes to pull off sound auction bankroll management. However, if I'm only going to walk away with one high-priced stud, it had better be one virtually guaranteed of a Top 5 finish at their position barring injury. Thomas certainly brings the history and potential to the table, but a change in offensive philosophy could cause his numbers to take a dip. I think we can still pencil him in for a Top 10 finish at receiver, would just feel more comfortable with this roster structure with more of a lock as my highest-priced player. Wimer will spend the season hoping that his value picks produce in a big way to remain competitive.
1. What is the most challenging aspect of drafting a solid team in an auction?

Sticking to your budget is the most challenging aspect of creating an auction team. It requires patience and a willingness to trust your ENTIRE set of projections/rankings as there are guaranteed to be players that you really, really like who will be bid up over the price that you have set for that person/that person's tier on your draft budget. It is critical to stick to your plan (whether it is studs-and-duds or dominate the middle portion of the bidding). If you get over-exuberant in chasing a particular player well beyond your budget, the rest of your team will suffer.
2. Talk about a strategy you used in the bidding process.


Early on in the bidding I nominate high-profile players that I am personally not very excited about. I want to maximize the bidding/drain on my opponents' budgets/bank while preserving my own pool of bidding cash.

One example - back when Michael Vick was a hot fantasy commodity (he was/is a player I never cared to roster in any format) I would often nominate Vick early in an auction, in order to drain an opponent's bankroll. I find it useful to identify 5-8 high profile guys that I would never consider bidding for, and to then offer those guys early on in the auction when it is my turn to initiate bidding. When others overpay for shaky NFL talents, I win (in a relative sense).
3. Would you prefer to draft auction style or serpentine? Explain your answer.
I actually like both formats. It takes skill to win a league whether it is an auction or a serpentine draft. However, as a long-time fantasy football participant/professional fantasy football geek, I prefer to compete with other pro geeks in the auction format. It is more entertaining and challenging than simply flowing down my draft lists (which is something I have done thousands of times at this point). Serpentine drafts can get very repetitive based on your particular draft boards/rankings, whereas each auction is different from the last one you participated in as different guys have different budgeting strategies.
Dan Hindery
| | |
| --- | --- |
| Player | Winning Bid |
| Lacy, Eddie GBP RB | $44.00 |
| Murray, DeMarco PHI RB | $32.00 |
| Luck, Andrew IND QB | $31.00 |
| Sanders, Emmanuel DEN WR | $25.00 |
| Cooper, Amari OAK WR | $19.00 |
| Marshall, Brandon NYJ WR | $15.00 |
| Johnson, Duke CLE RB | $8.00 |
| Ertz, Zach PHI TE | $7.00 |
| Eifert, Tyler CIN TE | $5.00 |
| Artis-Payne, Cameron CAR RB | $2.00 |
| Freeman, Devonta ATL RB | $2.00 |
| Williams, Terrance DAL WR | $2.00 |
| Bengals, Cincinnati CIN Def | $1.00 |
| Crabtree, Michael OAK WR | $1.00 |
| Dalton, Andy CIN QB | $1.00 |
| Gostkowski, Stephen NEP PK | $1.00 |
| Herron, Dan IND RB | $1.00 |
| Moncrief, Donte IND WR | $1.00 |
| Texans, Houston HOU Def | $1.00 |
| White, James NEP RB | $1.00 |
Overall Strategy:
Stud QB and Top 5 RB
Evaluation
Hindery locked up his quarterback early and wasn't afraid to spend to do so. Andrew Luck was the sixth player auctioned and Hindery's bid of $31 got the job done. He picked his spots from this point, spending up for two high-level running backs in DeMarco Murray and Eddie Lacy while choosing a value approach at wide receiver. Amari Cooper should outperform his price point of $19, but I'm a little concerned about Emmanuel Sanders at $25. Sanders was money for the Broncos in 2014 but a change in offensive philosophy points to his numbers taking a dip. Add in the fact that he has yet to play in the preseason and may not be ready until Week 1 and the dollars may have been better spent elsewhere. Another area of concern is the depth at the running back. There are some backs with very high-upside potential in the mix here, but we're talking about unproven quantities in James White, Cameron Artis-Payne and Duke Johnson. At least one should hit, but I'd be a little more comfortable with more of a veteran presence. Hindery is locked and loaded at quarterback and RB1 and RB2, but if disaster strikes at one of those positions he will be left scratching his head.
1. You won three bids in the early going with Andrew Luck ($31), Eddie Lacy ($44) and DeMarco Murray ($32). Explain how those decisions altered your strategy for the rest of the auction?
I believe strongly in paying for at least two top RBs in auctions (as long as the prices don't get outrageous), so whether it was Lacy and Murray or a different pair of backs, I was going to pay up for RBs. Landing those two didn't change my strategy at all. As part of my normal strategy though, I normally budget only a small percentage of my auction dollars for the QB and TE positions. So paying $31 for Luck was a major departure from my planned strategy and caused some pretty drastic changes to the way I had to approach the rest of the draft. I knew that I'd probably have to pass on a legitimate #1 WR (as originally planned) and instead target a trio of WR2-types in the $15-25 range. I also knew I'd have to skimp on my 3rd RB as I wouldn't be able to afford to add three top 25 WRs, Luck and a trio of good backs.
I decided to go away from my usual "cheap QB" strategy for 3 main reasons: (1) the top RBs and WRs were going off the board for relatively high prices early, so my normal plan of adding 3 top RBs would be more costly to accomplish than planned, (2) Luck is the one quarterback I'm willing to pay a premium for because he could have a monster season and (3) the 2nd and 3rd tier QBs in the last staff auction were overpriced and I expected that might happen again (unfortunately, it didn't and I missed out on some nice bargains at the QB position).
2. Talk about a player you missed out on and explain why you like him so much this year.
I was dead set on getting Arian Foster in this draft and was willing to go all the way up to $20 to get him. I had to leave the room for about 2 minutes during the auction and when I saw Foster was one of the auctions I missed (and that he went off the board for only $7), it was frustrating and left me in a sour mood the rest of the auction. I'm optimistic on Foster and feel it's likely he only misses 4-5 games. If he misses four games, my VBD formulas indicate he's worth at least $25-30, so even discounting a bit to take into account fthe worst case scenario (missing 10 games), the $7 price for Foster was an absolute steal.
3. What advice would you give to someone who is drafting in an auction?
My two most important pieces of advice are: (1) Make sure you have a spreadsheet with average and/or expected auction prices for each player and track the prices during the draft to see whether players are generally going for more or less than they "should." Adjust your strategy accordingly. If the players are going off for less than expected, you need to be very aggressive early and not be afraid to spend most of your money in the early going if that's where the value is. If players are going for more than expected, you need to be patient and wait for better prices. (2) Always grab at least a couple top 30 overall players. Even if your numbers indicate that most of the top guys are being overvalued, that doesn't mean you should ignore them entirely. Just bite the bullet and overpay a bit for the one or two top guys that you feel are the best values. You will still have plenty of money for all of the value options later in the draft because you are still spending less of your budget on top guys than your competitors. But it is really hard to win without at least a couple elite guys. Depth can only take you so far, so don't stress value too much and then miss out on all of the elite players.
Daniel Simpkins
| | |
| --- | --- |
| Player | Winning Bid |
| Hill, Jeremy CIN RB | $32.00 |
| Ingram, Mark NOS RB | $28.00 |
| Yeldon, T.J. JAC RB | $23.00 |
| Robinson, Allen JAC WR | $21.00 |
| Edelman, Julian NEP WR | $17.00 |
| Manning, Peyton DEN QB | $14.00 |
| Wallace, Mike MIN WR | $13.00 |
| Foster, Arian HOU RB | $7.00 |
| Jennings, Rashad NYG RB | $7.00 |
| Floyd, Michael ARI WR | $6.00 |
| Smith, Torrey SFO WR | $6.00 |
| Wright, Kendall TEN WR | $5.00 |
| Johnson, David ARI RB | $4.00 |
| Newton, Cam CAR QB | $4.00 |
| Allen, Dwayne IND TE | $3.00 |
| Sims, Charles TBB RB | $3.00 |
| Williams, DeAngelo PIT RB | $3.00 |
| Seferian-Jenkins, Austin TBB TE | $2.00 |
| Colts, Indianapolis IND Def | $1.00 |
| White, Kevin CHI WR | $1.00 |
Overall Strategy:
Balanced approach with strict money management
Evaluation
Simpkins was a conservative investor and the results could be a decent return on investment. His highest-priced player, Jeremy Hill, was secured with a winning bid of $32. Hill has a valid shot at a Top 10 RB season and was secured at a price less than Frank Gore ($36) and Lamar Miller ($33). At the running back position in total, Simpkins was able to lock up three potential Top 20 running backs without spending an arm and a leg. He was the winning bidder on a solid but unspectacular group of wide receivers and I'm a little concerned with his depth at the position. Simpkins will have to hope that Mike Wallace has a bounce-back season in Minnesota (I think he will) and Allen Robinson takes the proverbial leap forward. Simpkins took a volume approach to his backup running backs and has a potential steal in David Johnson at $4. Quarterbacks are locked and loaded with two Top 10 players at a total cost of $18. Overall, a solid draft but a little more depth at wide receiver as opposed to a boatload of running backs may have improved his chances.
1. Which player were you most determined to win? Explain why you like that player this year.
Much to the chagrin of Matt Harmon, I felt I had to walk away from this auction with Allen Robinson. Like most everyone else, I was initially cool on Robinson. Digging into his measurables and his situation over the offseason piqued my interest. What Robinson accomplished in his first year would have been far more impressive to the masses if it had not been overshadowed by the feats of the excellent 2014 rookie receiver class. A stress fracture in his foot prematurely ended his rookie campaign. It was the big a reason he became a forgotten man. What he's been doing in camp and preseason action has rekindled the buzz. Bortles and the offense steadily continue to improve, and the addition of T.J. Yeldon will only help matters. I see all the signs of a breakout coming for the young Jaguar. I may have overpaid for him slightly at $21, but if you truly believe in a player, you need to be willing to spend a few extra dollars to make sure you get him. That was certainly my mindset in acquiring Robinson.
2. What strategy do you like to use in an auction? Is there one rule that always follow?
Auctions are like snowflakes in that every one is different from the next. You can put the same group of people in two auctions and each draft will have a different flow and complexion. Knowing this, I tend to preach being flexible. If I see that the majority of owners are being tight with their money early on, I may be inclined to loosen the purse strings and spend before things get more competitive later. If I see that most players are blowing cash left and right early, I tend to hold my money because I know there will be values later when my fellow participants don't have enough cash left to challenge my bids.
The one rule that I always follow for auctions is the same one Ra's al Ghul gave Bruce Wayne in Batman Begins: "Mind your surroundings!" Keep tabs on how much money your opponents have and which positions they have already filled. Not being aware of these seemingly simple facts will leave you at a large disadvantage. Conversely, paying close attention will give you cues about what you need to do in the heat of the moment.
3. You won Arian Foster for $7. Explain why you think he's a good bargain this year.
I was not a fan of taking Foster at full price initially, but I believe that he's a value now because of the overreaction of the fantasy community. Everything we are hearing now leads us to believe the timetable for Foster's return might be sooner than was first expected. While that's certainly good news, I'm encouraging owners to lower expectations a bit. If you can draft him as your fourth or fifth running back and only count on him for the second half of 2015, I don't see how you can go wrong.
Jeff Tefertiller
| | |
| --- | --- |
| Player | Winning Bid |
| Gronkowski, Rob NEP TE | $49.00 |
| Johnson, Calvin DET WR | $45.00 |
| McCoy, LeSean BUF RB | $26.00 |
| Bryant, Martavis PIT WR | $25.00 |
| Gurley, Todd STL RB | $25.00 |
| LaFell, Brandon NEP WR | $5.00 |
| Parker, DeVante MIA WR | $5.00 |
| Woodhead, Danny SDC RB | $4.00 |
| Mason, Tre STL RB | $3.00 |
| Helu, Roy OAK RB | $2.00 |
| Shorts, Cecil HOU WR | $2.00 |
| Bowe, Dwayne CLE WR | $1.00 |
| Broncos, Denver DEN Def | $1.00 |
| Carr, Derek OAK QB | $1.00 |
| Cutler, Jay CHI QB | $1.00 |
| Green, Ladarius SDC TE | $1.00 |
| Hauschka, Steven SEA PK | $1.00 |
| Jackson, Fred BUF RB | $1.00 |
| Osweiler, Brock DEN QB | $1.00 |
| Sanchez, Mark PHI QB | $1.00 |
Overall Strategy:
Top TE and Top 10 WR
Evaluation
Tefertiller was not afraid to gamble while constructing his roster. He paid top dollar for the consensus top TE Rob Gronkowski and spent $1 each on four separate quarterbacks. Both Derek Carr and Jay Cutler have some potential for Top 15 seasons, Tefertiller will spend most of the year hoping that the gamble pays off. He secured LeSean McCoy and Todd Gurley at reasonable prices, but both head into 2015 with questionable injury situations. I'm comfortable taking a chance on one at the top of my depth chart, selecting both exposes you to a little too much risk. His collection of receivers consist of the Top 10-caliber Calvin Johnson, a WR2/3 in Martavis Bryant and several question marks. I'm concerned about the overall composition of his roster and think Tefertiller will struggle to compete.
1. You drafted four quarterbacks at $1 each. Explain why you chose that strategy and why you like those quarterbacks this year.

The elite QBs went too high - in my opinion - at first, then the middle-of-the-road QBs went for more than I wanted to spend so I decided to wait it out and target quantity over quality. These four quarterbacks (Cutler, Carr, Osweiler, and Sanchez) all offer something different. Cutler was taken to be a low-end QB1. With Carr a middling QB2, I wanted Osweiler and Sanchez for upside. This is a little more risky than I usually desire, but am happy with the results. When I realized that I would not have strong QBs, I targets upside at RB/WR. I expect Osweiler and Sanchez to start multiple games each, offsetting some of this risk.
2. You spent $49 on Rob Gronkowski. Explain why he was a must own for you.

The tight end position is the only one where one player gives your team a decided advantage week-to-week. Gronkowski is healthy and primed for a strong 2015. The Jimmy Graham trade to Seattle only widened the gap between the pair of tight ends.
3. Which player of yours do you think will exceed expectations this year. Explain why you like this player.

I really like the three running backs, Todd Gurley, LeSean McCoy, and Danny Woodhead given the prices paid for each. Yes, each comes with a warning label of injury, but each was a steal at the auction price. Gurley is now cleared to practice, making his $25 pricetag very reasonable. I targeted Tre Mason to offer insurance for Gurley early in the season. McCoy has been nicked up this training camp but is a star runner in a run-heavy offense. The price of $26 was low considering his ability and situation. McCoy just needs to get healthy. Fred Jackson was won late to provide a cheap handcuff. Lastly, Woodhead at $4 was my obvious player to outproduce his auction price. The diminutive back is an every-week RB2 for fantasy owners,and will benefit from rookie Melvin Gordon's learning curve.

Chad Parsons
| | |
| --- | --- |
| Player | Winning Bid |
| Cobb, Randall GBP WR | $33.00 |
| Jeffery, Alshon CHI WR | $31.00 |
| Cooks, Brandin NOS WR | $30.00 |
| Spiller, C.J. NOS RB | $23.00 |
| Bernard, Giovani CIN RB | $12.00 |
| Bell, Joique DET RB | $8.00 |
| Tannehill, Ryan MIA QB | $8.00 |
| White, Roddy ATL WR | $8.00 |
| Jones, Matt WAS RB | $7.00 |
| Vereen, Shane NYG RB | $7.00 |
| Colston, Marques NOS WR | $5.00 |
| Dorsett, Phillip IND WR | $4.00 |
| Mathews, Ryan PHI RB | $4.00 |
| Witten, Jason DAL TE | $4.00 |
| Bradford, Sam PHI QB | $3.00 |
| Hill, Josh NOS TE | $3.00 |
| Perriman, Breshad BAL WR | $3.00 |
| Sankey, Bishop TEN RB | $3.00 |
| Dolphins, Miami MIA Def | $2.00 |
| Vinatieri, Adam IND PK | $1.00 |
Overall Strategy:
Balanced approach with strict money management
Evaluation
Parsons chose a balanced approach and spent his money wisely. He put together a nice collection of three wide receivers in the $30 range, all with Top 10 upside. Running back is an area of concern as his two lead backs, C.J. Spiller and Giovani Bernard, are not the primary ball carriers for their respective teams. Parsons loaded up on backs with PPR value, a good way to attack the position if you can't secure a high-level player. His two quarterbacks were acquired for a total spend of $11. Bradford is particularly intriguing at $3, but we know all about his high propensity for injury. Overall, a solid draft for Parsons as he has nice depth at both running back and wide receiver. However, the lack of a true lead back may prove to be his downfall.
1. The highest you spent on a running back was $23 (C.J. Spiller). Explain why you went with this approach.
In general I go with a committee feel at running back in an auction. In drafts you have a 'this or that' decision on a round-by-round basis, but in an auction your team can be made up of mostly mid-round players by design.
I had hopes of finding a top-tier running back sagging down in the mid-30s in terms of cost, but none were found. Instead, there were values to be had with undervalued starters wtih beaten down stock (Joique Bell, Bishop Sankey for a combined $11), three pass-catching options with mid-RB2 or better upside (Giovani Bernard, C.J. Spiller, Shane Vereen for a combined $42), and I took shots on primary backups with the talent to excel with a boost in volume (Matt Jones, Ryan Mathews for $11 total). I would rather have those calculated swings at the running back jackpot than two high-priced options for $30+ each.
2. Phillip Dorsett was your last winning bid. Explain why you like him this year.
Typically I have a few extra bucks at the end of auctions and can have my preferred options down the bench. Other than kicker or defense, I rarely have a $1 player outside of the league falling asleep at the wheel on one of my late nominations. Dorsett, like Dorial Green-Beckham or Breshad Perriman, fit the mold of a high-upside flyer. They likely will not start many games for my team, but the draft pedigree and situation is there to potential be a high impact.
What if Andre Johnson or T.Y. Hilton miss half the season? Like Davante Adams with the Jordy Nelson injury, Dorsett (or Donte Moncrief) could be lightning in a bottle. I look for situations like that for the final roster spots, those 'what if' propositions with one domino required to fall.
3. What piece of advice would you give to someone drafting in an auction?
An auction is a free market where you can actually build a team in your image with being sniped like in a draft setting. Within reason, you can have 75% or more of your team be ideal bets for the coming season, especially by being patient and avoiding the top of the first round players which will cost $40, $45, or even $50 of a $200 budget on a singular player. Making that one decision to wait out the opening 15-25 players nominated, outside of quality value/discount, provides a trump card for nearly all of an owner's remaining target players.
Also, an auction magnifies the benefit of having comfortable cheap targets at quarterback and tight end. For example, I bought a combination of Ryan Tannehill and Sam Bradford for $11, about 30% of the cost of Aaron Rodgers. At tight end it was the same story, I took an upside-floor combination of Josh Hill and Jason Witten for $7 total.
Finally, I will advise auction owners to map out your strategy or game plan ahead of time.
Make a spreadsheet of the roster spots and a rough estimate of the various costs - say $30 for RB1, $20 for RB2, etc. You may be surprised how over (or under) budget you are on the first pass. Refining your general budget for each position and roster spot will allow adjustments early in the auction much easier. Spending a few extra dollars on a discounted stud or saving money with an unexpected value play can been seen easily and accounted for with upcoming bidding and strategy.
Sigmund Bloom
| | |
| --- | --- |
| Player | Winning Bid |
| Charles, Jamaal KCC RB | $44.00 |
| Gore, Frank IND RB | $36.00 |
| Hopkins, DeAndre HOU WR | $30.00 |
| Ellington, Andre ARI RB | $29.00 |
| Landry, Jarvis MIA WR | $18.00 |
| Stewart, Jonathan CAR RB | $14.00 |
| Johnson, Charles MIN WR | $9.00 |
| Brady, Tom NEP QB | $4.00 |
| Stills, Kenny MIA WR | $3.00 |
| Donnell, Larry NYG TE | $2.00 |
| Randle, Rueben NYG WR | $2.00 |
| Cardinals, Arizona ARI Def | $1.00 |
| Carpenter, Dan BUF PK | $1.00 |
| Dunbar, Lance DAL RB | $1.00 |
| Fitzpatrick, Ryan NYJ QB | $1.00 |
| Huff, Josh PHI WR | $1.00 |
| Hunter, Justin TEN WR | $1.00 |
| Manziel, Johnny CLE QB | $1.00 |
| Miller, Heath PIT TE | $1.00 |
| Zenner, Zach DET RB | $1.00 |
Overall Strategy:
Spend on RBs and find value elsewhere
Evaluation
Bloom constructed a team with nice depth at running back and high-upside potential at wide receiver. Jamaal Charles was the third player up for auction. Bloom was able to secure him at a fair price of $44. Charles is the engine in Kansas City and has the potential to be the top overall running back in fantasy. Bloom may have slightly overpaid for Frank Gore at $36. His upside as the lead back in Indianapolis is well-documented, but I have concerns about a 32-year-old running back switching teams – historically not a good combination. Bloom put together a solid collection of wide receivers. I am most intrigued by Charles Johnson at $9. A lot of people are sleeping on the Vikings, if Bridgewater takes the proverbial leap forward and Adrian Peterson returns to do AP-like things – look out. Johnson could provide a very strong return at this price point. Bloom looks to have built a contender.
1. You started the auction with four consecutive running backs. Explain why you chose this approach?
It wasn't a plan going in. Once we started, I felt that the whole auction with a few exceptions were being too tight, so jumping in and getting my top 3 target RBs at the deflated market value was my top priority. The fourth one, Jonathan Stewart was a bit of price enforcement. A three down running back with his talent, even in a poor offense, is worth more than seven percent of the cap.
2. What part of the auction is most critical to the success of building a competitive team, the beginning, middle or end? Explain your answer.
the beginning. You have to have a good set of values to guide you to a snap judgment as to whether the league is undervaluing or overvaluing the first batch of players. This is the key to knowing if it is time to jump in head first and even start nominating the players you actually won, or back off and wait for everyone to overspend so you can rampage through the mid draft and drive the late draft.
3. Is there any advice that you can give about deciding on what players to nominate?
As I said above, knowing whether folks are too tight or too loose with their wallets early will guide you. If they are too tight, you'll want to get your targets out there and capture them under market value. If they are too loose, throw out players you don't want. In general, I prefer erring on the side of throwing out players I don't want so that way the league won't price me up on a desired target just because I was the one to throw them out. I also like throwing out the best QB/TE/stud RB left right after I secure mine (assuming its not in the end draft) to make sure comparable players get out there when there's still a good amount of money on the board.
Matt Harmon
| | |
| --- | --- |
| Player | Winning Bid |
| Jones, Julio ATL WR | $50.00 |
| Beckham, Odell NYG WR | $43.00 |
| Evans, Mike TBB WR | $34.00 |
| Miller, Lamar MIA RB | $33.00 |
| Kelce, Travis KCC TE | $25.00 |
| Asiata, Matt MIN RB | $1.00 |
| Bryant, Matt ATL PK | $1.00 |
| Chiefs, Kansas City KCC Def | $1.00 |
| Foles, Nick STL QB | $1.00 |
| Green, Virgil DEN TE | $1.00 |
| Griffin III, Robert WAS QB | $1.00 |
| Hurns, Allen JAC WR | $1.00 |
| Oliver, Branden SDC RB | $1.00 |
| Ravens, Baltimore BAL Def | $1.00 |
| Sanu, Mohamed CIN WR | $1.00 |
| Taylor, Tyrod BUF QB | $1.00 |
| West, Terrance CLE RB | $1.00 |
| Williams, Damien MIA RB | $1.00 |
| Wilson, Albert KCC WR | $1.00 |
| Wilson, Marquess CHI WR | $1.00 |
Overall Strategy:
Spend on WRs and seek value elsewhere
Evaluation
Harmon loaded up on wide receivers with three high-priced selections forming the core of his team. All three will be highly productive in their respective offenses. Harmon made two other high-priced acquisitions in running back Lamar Miller and tight end Travis Kelce. Those five winning bids essentially wiped out Harmon's bankroll and he completed his roster with dollar store selections. The depth at running back is very concerning. Miller will produce, but outside of that he will be left hoping for a Terrence West breakthrough. Not a recipe for fantasy success. Harmon's stud receivers can very well dominate and provide some nice points on a weekly basis, but what if one goes down to injury? How about if two of them go down? This team will struggle to keep its head above water in 2015.
1. What was your strategy going into the auction and how did your decisions alter that plan?
I always try to be patient at the onset of auctions. Unless it's a big value, I rarely ever win one of the first few player nominated. In this particular rendition, I really set out to go with a receiver heavy approach. Landing three stud receivers is a great way to put a stranglehold on a PPR league, and I wanted to try that out here. I ended up spending $127 on Mike Evans, Odell Beckham and Julio Jones, and I really felt good about my direction. When I saw Travis Kelce get nominated, I went in on him too. I think that he could have a fringe-Gronk type of season this year, but I rarely end up with him in redraft due to his ADP cost. In an auction, he's a big priority for me. From there on, I should have been frugal, but I made a mistake.
2. If you could go back and change one winning bid, what would it be and how would that have affected the rest of the auction for you?
I would go back and not win Lamar Miller. I had spent some of that day digging into his tape and situation, and I've been growing increasingly higher on him the closer we get to the season. I bet he ends up as a strong RB1. However, I ended up unknowingly spending all of my max allotted per bid budget winning Miller. I got caught up in the lights, and though I got my guy, I now had only $1 left to spend on the remaining 15 players to fill my roster. From here on out, I had to go full on "studs and duds", which is a strategy that can work in an auction. I do think the top five of my roster is good enough for it to be viable, but it's like teetering on a high-wire above New York City. From here, my $1 winners had to be a healthy mix of high upside cheapies (Albert Wilson and Tyrod Taylor) and players with surprisingly usable weeks (Terrance West and Mohamed Sanu).
3. What is one piece of advice that you would give to someone drafting in an auction?
Be flexible, but don't lose focus. I got caught up in the arms race of acquiring studs, and backed myself into a serious corner with that Miller win. When you are in your auction room, be armed with a plan and a focused set of goals you intend to accomplish. Of course, an auction would not be fun if you did not waver when the time calls. Just pay attention to your budget!
Justin Howe
| | |
| --- | --- |
| Player | Winning Bid |
| Bryant, Dez DAL WR | $47.00 |
| Lynch, Marshawn SEA RB | $41.00 |
| Rodgers, Aaron GBP QB | $34.00 |
| Matthews, Jordan PHI WR | $29.00 |
| Jackson, Vincent TBB WR | $13.00 |
| Martin, Doug TBB RB | $12.00 |
| Decker, Eric NYJ WR | $8.00 |
| Davis, Knile KCC RB | $3.00 |
| Williams, Andre NYG RB | $2.00 |
| Allen, Javorius BAL RB | $1.00 |
| Beasley, Cole DAL WR | $1.00 |
| Eagles, Philadelphia PHI Def | $1.00 |
| Fleener, Coby IND TE | $1.00 |
| Jennings, Greg MIA WR | $1.00 |
| Mariota, Marcus TEN QB | $1.00 |
| Parkey, Cody PHI PK | $1.00 |
| Reed, Jordan WAS TE | $1.00 |
| Robinson, Khiry NOS RB | $1.00 |
| Rodgers, Richard GBP TE | $1.00 |
| Smith, Alex KCC QB | $1.00 |
Overall Strategy:
Stud QB, Top-tier RB and WR
Evaluation
Howe wasted little time building the core of his team, securing the winning bid for 3 of the first eleven players. He netted quite a haul for his efforts, securing a Top 2 QB in Aaron Rodgers and potential Top 5's in Dez Bryant and Marshawn Lynch. Howe pulled the trigger on one more high-priced selection with a winning bid for Jordan Matthews at $29, the 18th player auctioned. The majority of his bankroll spent, Howe had to pick his spots wisely for the remainder of the draft. He may have slightly overpaid for Doug Martin at $12, but the need for a RB2 trumped bankroll management at this point. Howe shopped well in the bargain bin and secured a few potential high-return picks. Andre Williams, Greg Jennings and Richard Rodgers were all secured for $1 and offer decent upside for a low price. Overall, Howe was aggressive early but still able to build a relatively balanced team. There is potential weakness at RB, but that may be offset with a solid collection of WRs.
1. What is the most important piece of advice that you would give to someone drafting in an auction for the first time?
First off, don't panic if you spend high early. Assuming you're still paying appropriately, you're buying studs, so you're not as desperate for depth as the guys who are passing on everyone. Don't be thrown off by the fact that you'll be mostly sitting out an hour or so of your draft.
You can feel confident in the depth afforded you down the road. More desirable players wind up as $1 and $2 bargains than you think. Just be sure you're not bidding anything you wouldn't ultimately be willing to spend.
In this auction, for example, I overpaid for Aaron Rodgers early. E
ven though I really didn't want an expensive QB.
I considered him to be worth up to $35 or so at the very most, so I was willing to hang around until that point for value's sake. Ultimately, I was "stuck" with him and fretted over the rest of my draft. How was I going to fill things out with so much cash allocated to a QB, especially this early? Well, rounds passed and I saw some outstanding bargains for depth. No-brainer WR2 Eric Decker came to me for $8. High-upside TE2s Coby Fleener, Richard Rodgers, and Jordan Reed ultimately cost me $1 each. The RB4/5 combo of Andre Williams and handcuff supreme Khiry Robinson cost me $3 total. Eventually, I developed confidence in my stud players - Rodgers, Marshawn Lynch, and Dez Bryant will produce, after all - and took note of the depth that DID fall.
2. Which style of draft do you prefer? Auction or Serpentine style? Explain your answer.
I was exclusively a drafter for 16 years, eventually dipping into DFS and best-ball formats and seeing the distinctions and values of all of them. Auctioning is the most radically different from drafting, but thrilling in its way.
First and foremost, like a DFS game, it's fair and even in ways serpentine drafting can never be.
Serpentine draft proponents (like myself) have traditionally defended them by pointing out that the top-drafting teams selected from the bottom in the 2nd and 4th rounds, thus evening out the selection opportunity. But that's not the case - the gap between the #1 pick and, say #11 is generally much larger than the advantages the late drafter sees down the road. Sure, the owner in the #11 spot scoops up Marshawn Lynch and Demaryius Thomas and establishes some balance, but those pairings usually don't match up to something like Le'Veon Bell/Randall Cobb. Universal access to the very-top options is fair, an auctions allow that.
Also, an auction allows you to better stick to YOUR draft philosophy and plan. Let's say you want to go cheap at QB - a perfectly reasonable, defensible strategy that can pay big dividends. In a draft, you're always on pins and needles, mostly out of control of the landing spots for guys like Eli Manning, Colin Kaepernick, etc. In an auction, you set your own price - and you're generally able to go dirt-cheap. In a recent mock auction, I secured both Manning and Kaepernick as my QBs for $1 each, and would've been fine paying double for either. They were my targets, and
I didn't have to reach a round or two OR overpay.
3. Who is one player that you missed out on and explain why you like that player this year.
I was disappointed that I couldn't get into the Arian Foster bidding, of course. His nomination came up pretty late, and I didn't have the cash left to pursue him beyond a few dollars and still field a team. I suspect he was nominated late strategically to put one over on drafters like me. It worked.
Even with the injury issue still looming and unsettled, Foster at a $7 price tag is larceny. He's the yearly lottery ticket we see with real and legitimate first-round upside, and he came to Daniel Simpkins at the same cost as Zach Ertz, an injured and part-time TE. Snagging Foster for single digits - like finding him in the 7th or 8th rounds of standard drafts - can be the proverbial league-winner.
Matt Waldman
| | |
| --- | --- |
| Player | Winning Bid |
| Bell, Le'Veon PIT RB | $50.00 |
| Peterson, Adrian MIN RB | $47.00 |
| Green, A.J. CIN WR | $38.00 |
| Graham, Jimmy SEA TE | $20.00 |
| Roethlisberger, Ben PIT QB | $14.00 |
| Brees, Drew NOS QB | $10.00 |
| Seahawks, Seattle SEA Def | $5.00 |
| Jones, Marvin CIN WR | $3.00 |
| Latimer, Cody DEN WR | $2.00 |
| Bailey, Dan DAL PK | $1.00 |
| Ball, Montee DEN RB | $1.00 |
| Britt, Kenny STL WR | $1.00 |
| Conley, Chris KCC WR | $1.00 |
| Green-Beckham, Dorial TEN WR | $1.00 |
| Hankerson, Leonard ATL WR | $1.00 |
| Johnson, Chris ARI RB | $1.00 |
| Starks, James GBP RB | $1.00 |
| Tamme, Jacob ATL TE | $1.00 |
| Williams, Karlos BUF RB | $1.00 |
| Woods, Robert BUF WR | $1.00 |
Overall Strategy:
Stud RBs and Value QBs
Evaluation
Waldman was very aggressive to start things off as he was the winning bidder on 4 of the first 8 players auctioned. But when you walk away with two Top 5 RBs in Le'Veon Bell and Adrian Peterson plus a Top 2 TE in Graham PLUS a potential Top 5 WR in A.J. Green – who can argue? From aggressive to patient, Waldman was also able to parlay two potential Top 5 QBs at reasonable prices. Ben Roethlisberger at $14 and Drew Brees at $10 can provide a tremendous return on investment at those prices. He spent the remainder of the draft bargain shopping with mixed results. The WR group looks particularly vulnerable, but Leonard Hankerson for $1, Marvin Jones at $3 and Cody Latimer at $2 do offer some nice upside and could turn out to be great value. Waldman has to hope that the strength at the top of his team is enough to offset the lack of depth. One or two key injuries could spell his demise.
1. Explain your strategy going into the auction. Were you able to maintain that plan throughout?
If you know your league it's a good idea to use that information to your advantage. At one time or another I've faced two-thirds of these owners in an auction draft since 2009 and most of these auctions were "fantasy writer/expert leagues." The few I haven't faced before stated that they were inexperienced at the format.
Combine the setting of an "expert league/mock where we're going to write about what we did" with a smattering of less experienced auction drafters and there will be one prevalent dynamic among most, if not all of the room: They'll open the auction very tight and make conservative bids.
Some owners are tight because they are inexperienced and they don't want to make a mistake. Others are conservative drafters who believe in trying to control the auction at the final phase of the draft where they believe they'll land great value. And, as human nature dictates, sitting in the back of some owners' minds is the fact that they will have to write about their strategy and they want to look good to readers.
Regardless of the motivation I was betting that my competition would be tight at the beginning and it would make the auction ripe for going hard to the hole with a "Studs and Duds" approach. I took the values from
Sigmund Bloom's auction article
and tweaked them to fit my
ADP Desirability rankings
. Then I adjusted the curve so that the values would be much higher at the top tiers compared to the middle and bottom tiers.
I made this adjustment because ADP Desirability allows you to cut through the red tape of conventional thought-gymnastics with rankings and arrive at a closer truth to how you value a player. In an auction draft where in theory, you have the opportunity to pick the players you value most, why not base your values on a desirability index that gives you a bigger separation among players like Adrian Peterson and Jamaal Charles, two players more tightly grouped in traditional rankings?
If I'm going Studs and Duds, my top 3-5 tiers should have a little higher monetary value than my competition's top 3-5 tiers, especially when I know that most of them are playing the middle and end game in an auction.
As a result, I had 7 tiers with a total of 49 players. ADP Desirability rankings aren't convention rankings so what you'll see below may see really odd, especially combined with my aggressive players values, but here are the top 49 players and how they fit into my tiers at the time of the auction: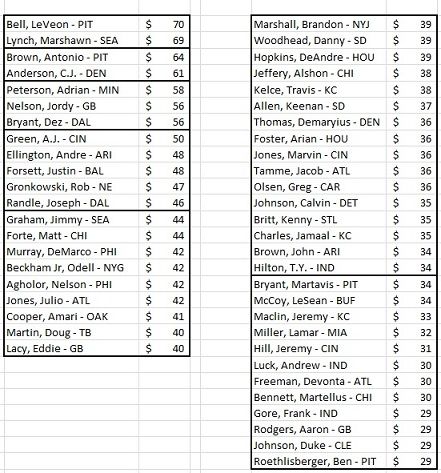 Many of you who are experienced at auctions know that a $70 value for the likes of Le'Veon Bell isn't out of the question in most non-writer leagues. I can't tell you how many times I've heard conservative-thinking owners bemoan that the early rounds "blew the curve" because the winning bids for top backs were as high as $80-$90. While this is often too high for me to go, if you're playing a Studs and Duds strategy--especially against a more conservative base of fantasy writers--then you should try to set your "stud tiers" higher than your competition so you're comfortable going strong early.
Adrian Peterson was the first player up for bid and I was thrilled to win him for $47 when my I valued him at $58. It was a good indication that I accurately projected the tightness of the auction room. When Dez Bryant went for $47 and I had the receiver valued at $56, I knew that the next receiver up for bid that I wanted would be mine. Jamaal Charles went after Bryant for $44. Considering I had Charles at $35 based on my desirability tiers (see what I mean how this method truly separates players who otherwise appear more tightly grouped?) I felt great about Peterson and we ere only two three picks into the auction!
A.J. Green was on the block after Charles and the receiver was my No.8 desirable player with a value of $50. Landing Green at $38, I had no problem going hard for Le'Veon Bell who followed, winning my $70 player for
$50.
At this point the chat room was joking that I could go to the bathroom anytime I wanted now that I spent $135 of my $200 on three players within the first five nominations. I can't tell you exactly what they were thinking, but I bet they expected things to calm down a bit. I wasn't finished.
Jimmy Graham was next and in a PPR league, I'd gladly pay $44 for this tight end who I expect to rival Rob Gronkowski this year. I got Graham for $20--a player capable of top-20 fantasy production as a wide receiver. By comparison, Gronkowski went for $49; Martellus Bennett for $17; Greg Olsen for $19; and Travis Kelce for $25. I could be wrong, but as of today I stole Graham.
At this point, owners in the auction room chat were typing "
WALDMAN
?!" and guffawing all over themselves. Meanwhile, Bloom was privately telling me he wished he went this route and started telling the league that I won the auction. I know what he meant, but we all know that you don't win an auction, you win a league. Still I got off to a great start.
What nearly made this one of the best studs-duds beginnings I've ever had was when someone nominated Andrew Luck after Graham and I was a fraction of a second from winning him for $13. I'm joking when I say this, but if I caught this crew napping on Luck, our commissioner might have had to start over the auction.
At this point, I took a break for a while. I got Drew Brees for $10 in the middle of the auction. I had $26 left and I considered two options: hold onto this money for the end game and get a safe WR2, WR3, a second TE1, and maybe a RB3, or I could target another top quarterback.
When the bids on Ben Roethlisberger slowed down way earlier than I expected, I jumped into the fray and won him for $14. As my No.3 QB in my traditional rankings and my No.49 desirability option at $29, I can now use Brees and Roethlisberger to play the match up and likely get optimal production from my passer every week--production at a combined $24 that could outpace Andrew Luck ($31) and Aaron Rodgers ($34).
And if my late-round players don't help my team win, I'll likely have trade bait if I need it. But forget that idea, double-barreled QB1s will hopefully be my weapon of choice in this league.
When it was all said and done, I got my 1st, 5th, 8th, 13th, 31st, 32nd, 35th, and 50th "most desirable players" and in the 1st, 2nd, 8th, 19th, 48th, 60th, 75th, 83rd, and 118th ranked players by traditional rankings.
While I have some bye-week snafus that more fastidious owners might not like, including no active QB on my roster in Week 11, the opportunity to roll with six studs capable of huge weeks any given
Sunday
plus high-upside options like Dorial Green-Beckham, Cody Latimer and Kenny Britt makes this a fun studs and duds unit.
2. Is there such a thing as a perfect auction? If so, what would be the formula for having such?

I don't believe there is a perfect auction, but you can have near-perfect execution of a strategy in your auction. Drafts are only a part of the winning process of building a team. Although I have won big in leagues with great drafts or auctions that gave me a unit requiring little thinking or weekly work to maintain a championship squad, it's a rare occurrence. My idea of a "perfect" auction is about having a plan and getting most of the key players you wanted with that plan--regardless of the risk-level of your strategy.
3. Would you rather have a balanced team or stud players as your starters with limited depth? Explain your answer.

I'll go either direction based on what I project the mood of the auction will be like, but I prefer studs and duds because I've had a lot of success with it. My strengths tend to lie with identifying late-round picks with high upside. When I can begin strong and win 4-7 studs for a 10-man starting lineup, it's hard to resist when you have confidence in identifying late depth. I'm also more likely to grab values off waivers equivalent to mid and late-round winning bids that my competition landed than they are going to land even one of the 4-5 studs I got. That's my hope. It doesn't always work out, but fantasy football is a game and it's exciting to play it with guts.

Winning Auction Bids - Priced High To Low
| | | |
| --- | --- | --- |
| Player | Winning Bid | Winning Bidder |
| Bell, Le'Veon PIT RB | $50.00 | Matt Waldman |
| Jones, Julio ATL WR | $50.00 | Matt Harmon |
| Gronkowski, Rob NEP TE | $49.00 | Jeff Tefertiller |
| Brown, Antonio PIT WR | $47.00 | Matt Bitonti |
| Bryant, Dez DAL WR | $47.00 | Justin Howe |
| Peterson, Adrian MIN RB | $47.00 | Matt Waldman |
| Johnson, Calvin DET WR | $45.00 | Jeff Tefertiller |
| Charles, Jamaal KCC RB | $44.00 | Sigmund Bloom |
| Lacy, Eddie GBP RB | $44.00 | Dan Hindery |
| Beckham, Odell NYG WR | $43.00 | Matt Harmon |
| Anderson, C.J. DEN RB | $42.00 | Jeff Haseley |
| Lynch, Marshawn SEA RB | $41.00 | Justin Howe |
| Nelson, Jordy GBP WR | $41.00 | Andy Hicks |
| Thomas, Demaryius DEN WR | $41.00 | Mark Wimer |
| Forte, Matt CHI RB | $38.00 | Andy Hicks |
| Green, A.J. CIN WR | $38.00 | Matt Waldman |
| Gore, Frank IND RB | $36.00 | Sigmund Bloom |
| Evans, Mike TBB WR | $34.00 | Matt Harmon |
| Rodgers, Aaron GBP QB | $34.00 | Justin Howe |
| Cobb, Randall GBP WR | $33.00 | Chad Parsons |
| Hilton, T.Y. IND WR | $33.00 | Jeff Haseley |
| Miller, Lamar MIA RB | $33.00 | Matt Harmon |
| Hill, Jeremy CIN RB | $32.00 | Daniel Simpkins |
| Murray, DeMarco PHI RB | $32.00 | Dan Hindery |
| Forsett, Justin BAL RB | $31.00 | Matt Bitonti |
| Jeffery, Alshon CHI WR | $31.00 | Chad Parsons |
| Luck, Andrew IND QB | $31.00 | Dan Hindery |
| Cooks, Brandin NOS WR | $30.00 | Chad Parsons |
| Hopkins, DeAndre HOU WR | $30.00 | Sigmund Bloom |
| Ellington, Andre ARI RB | $29.00 | Sigmund Bloom |
| Matthews, Jordan PHI WR | $29.00 | Justin Howe |
| Ingram, Mark NOS RB | $28.00 | Daniel Simpkins |
| Abdullah, Ameer DET RB | $27.00 | Jeff Haseley |
| McCoy, LeSean BUF RB | $26.00 | Jeff Tefertiller |
| Allen, Keenan SDC WR | $25.00 | Matt Bitonti |
| Bryant, Martavis PIT WR | $25.00 | Jeff Tefertiller |
| Gurley, Todd STL RB | $25.00 | Jeff Tefertiller |
| Kelce, Travis KCC TE | $25.00 | Matt Harmon |
| Sanders, Emmanuel DEN WR | $25.00 | Dan Hindery |
| Spiller, C.J. NOS RB | $23.00 | Chad Parsons |
| Yeldon, T.J. JAC RB | $23.00 | Daniel Simpkins |
| Gordon, Melvin SDC RB | $22.00 | Andy Hicks |
| Randle, Joseph DAL RB | $22.00 | Mark Wimer |
| Robinson, Allen JAC WR | $21.00 | Daniel Simpkins |
| Graham, Jimmy SEA TE | $20.00 | Matt Waldman |
| Cooper, Amari OAK WR | $19.00 | Dan Hindery |
| Olsen, Greg CAR TE | $19.00 | Mark Wimer |
| Landry, Jarvis MIA WR | $18.00 | Sigmund Bloom |
| Morris, Alfred WAS RB | $18.00 | Andy Hicks |
| Murray, Latavius OAK RB | $18.00 | Mark Wimer |
| Bennett, Martellus CHI TE | $17.00 | Mark Wimer |
| Edelman, Julian NEP WR | $17.00 | Daniel Simpkins |
| Ivory, Chris NYJ RB | $17.00 | Matt Bitonti |
| Wilson, Russell SEA QB | $17.00 | Mark Wimer |
| Johnson, Andre IND WR | $16.00 | Andy Hicks |
| Tate, Golden DET WR | $16.00 | Jeff Haseley |
| Marshall, Brandon NYJ WR | $15.00 | Dan Hindery |
| Brown, John ARI WR | $14.00 | Mark Wimer |
| Manning, Peyton DEN QB | $14.00 | Daniel Simpkins |
| Roethlisberger, Ben PIT QB | $14.00 | Matt Waldman |
| Stewart, Jonathan CAR RB | $14.00 | Sigmund Bloom |
| Adams, Davante GBP WR | $13.00 | Jeff Haseley |
| Agholor, Nelson PHI WR | $13.00 | Mark Wimer |
| Barth, Connor TBB PK | $13.00 | Matt Bitonti |
| Jackson, Vincent TBB WR | $13.00 | Justin Howe |
| Wallace, Mike MIN WR | $13.00 | Daniel Simpkins |
| Bernard, Giovani CIN RB | $12.00 | Chad Parsons |
| Hyde, Carlos SFO RB | $12.00 | Andy Hicks |
| Maclin, Jeremy KCC WR | $12.00 | Matt Bitonti |
| Martin, Doug TBB RB | $12.00 | Justin Howe |
| Watkins, Sammy BUF WR | $12.00 | Jeff Haseley |
| Jackson, DeSean WAS WR | $11.00 | Andy Hicks |
| Blount, LeGarrette NEP RB | $10.00 | Jeff Haseley |
| Brees, Drew NOS QB | $10.00 | Matt Waldman |
| Crowell, Isaiah CLE RB | $9.00 | Mark Wimer |
| Johnson, Charles MIN WR | $9.00 | Sigmund Bloom |
| Ryan, Matt ATL QB | $9.00 | Jeff Haseley |
| Stafford, Matthew DET QB | $9.00 | Matt Bitonti |
| Bell, Joique DET RB | $8.00 | Chad Parsons |
| Cameron, Jordan MIA TE | $8.00 | Jeff Haseley |
| Cruz, Victor NYG WR | $8.00 | Matt Bitonti |
| Decker, Eric NYJ WR | $8.00 | Justin Howe |
| Fitzgerald, Larry ARI WR | $8.00 | Matt Bitonti |
| Johnson, Duke CLE RB | $8.00 | Dan Hindery |
| Tannehill, Ryan MIA QB | $8.00 | Chad Parsons |
| White, Roddy ATL WR | $8.00 | Chad Parsons |
| Ertz, Zach PHI TE | $7.00 | Dan Hindery |
| Foster, Arian HOU RB | $7.00 | Daniel Simpkins |
| Jennings, Rashad NYG RB | $7.00 | Daniel Simpkins |
| Johnson, Stevie SDC WR | $7.00 | Jeff Haseley |
| Jones, Matt WAS RB | $7.00 | Chad Parsons |
| Royal, Eddie CHI WR | $7.00 | Mark Wimer |
| Vereen, Shane NYG RB | $7.00 | Chad Parsons |
| Coleman, Tevin ATL RB | $6.00 | Matt Bitonti |
| Floyd, Michael ARI WR | $6.00 | Daniel Simpkins |
| Funchess, Devin CAR WR | $6.00 | Mark Wimer |
| Romo, Tony DAL QB | $6.00 | Andy Hicks |
| Smith, Steve BAL WR | $6.00 | Andy Hicks |
| Smith, Torrey SFO WR | $6.00 | Daniel Simpkins |
| Cobb, David TEN RB | $5.00 | Mark Wimer |
| Colston, Marques NOS WR | $5.00 | Chad Parsons |
| Eifert, Tyler CIN TE | $5.00 | Dan Hindery |
| LaFell, Brandon NEP WR | $5.00 | Jeff Tefertiller |
| Manning, Eli NYG QB | $5.00 | Andy Hicks |
| Parker, DeVante MIA WR | $5.00 | Jeff Tefertiller |
| Seahawks, Seattle SEA Def | $5.00 | Matt Waldman |
| Wright, Kendall TEN WR | $5.00 | Daniel Simpkins |
| Bills, Buffalo BUF Def | $4.00 | Mark Wimer |
| Brady, Tom NEP QB | $4.00 | Sigmund Bloom |
| Bridgewater, Teddy MIN QB | $4.00 | Andy Hicks |
| Dorsett, Phillip IND WR | $4.00 | Chad Parsons |
| Johnson, David ARI RB | $4.00 | Daniel Simpkins |
| Langford, Jeremy CHI RB | $4.00 | Andy Hicks |
| Mathews, Ryan PHI RB | $4.00 | Chad Parsons |
| Newton, Cam CAR QB | $4.00 | Daniel Simpkins |
| Riddick, Theo DET RB | $4.00 | Jeff Haseley |
| Rivers, Philip SDC QB | $4.00 | Matt Bitonti |
| Thomas, Julius JAC TE | $4.00 | Matt Bitonti |
| Walker, Delanie TEN TE | $4.00 | Matt Bitonti |
| Witten, Jason DAL TE | $4.00 | Chad Parsons |
| Woodhead, Danny SDC RB | $4.00 | Jeff Tefertiller |
| Allen, Dwayne IND TE | $3.00 | Daniel Simpkins |
| Blue, Alfred HOU RB | $3.00 | Matt Bitonti |
| Boldin, Anquan SFO WR | $3.00 | Andy Hicks |
| Bradford, Sam PHI QB | $3.00 | Chad Parsons |
| Davis, Knile KCC RB | $3.00 | Justin Howe |
| Garcon, Pierre WAS WR | $3.00 | Matt Bitonti |
| Hill, Josh NOS TE | $3.00 | Chad Parsons |
| Jones, Marvin CIN WR | $3.00 | Matt Waldman |
| Mason, Tre STL RB | $3.00 | Jeff Tefertiller |
| McFadden, Darren DAL RB | $3.00 | Jeff Haseley |
| Patterson, Cordarrelle MIN WR | $3.00 | Andy Hicks |
| Perriman, Breshad BAL WR | $3.00 | Chad Parsons |
| Rudolph, Kyle MIN TE | $3.00 | Jeff Haseley |
| Sankey, Bishop TEN RB | $3.00 | Chad Parsons |
| Sims, Charles TBB RB | $3.00 | Daniel Simpkins |
| Sproles, Darren PHI RB | $3.00 | Jeff Haseley |
| Stills, Kenny MIA WR | $3.00 | Sigmund Bloom |
| Tucker, Justin BAL PK | $3.00 | Andy Hicks |
| Williams, DeAngelo PIT RB | $3.00 | Daniel Simpkins |
| Artis-Payne, Cameron CAR RB | $2.00 | Dan Hindery |
| Coleman, Brandon NOS WR | $2.00 | Mark Wimer |
| Daniels, Owen DEN TE | $2.00 | Jeff Haseley |
| Davis, Vernon SFO TE | $2.00 | Andy Hicks |
| Dolphins, Miami MIA Def | $2.00 | Chad Parsons |
| Donnell, Larry NYG TE | $2.00 | Sigmund Bloom |
| Ebron, Eric DET TE | $2.00 | Andy Hicks |
| Freeman, Devonta ATL RB | $2.00 | Dan Hindery |
| Gates, Antonio SDC TE | $2.00 | Andy Hicks |
| Gray, Jonas NEP RB | $2.00 | Jeff Haseley |
| Helu, Roy OAK RB | $2.00 | Jeff Tefertiller |
| Latimer, Cody DEN WR | $2.00 | Matt Waldman |
| McKinnon, Jerick MIN RB | $2.00 | Matt Bitonti |
| Palmer, Carson ARI QB | $2.00 | Jeff Haseley |
| Quick, Brian STL WR | $2.00 | Jeff Haseley |
| Randle, Rueben NYG WR | $2.00 | Sigmund Bloom |
| Seferian-Jenkins, Austin TBB TE | $2.00 | Daniel Simpkins |
| Shorts, Cecil HOU WR | $2.00 | Jeff Tefertiller |
| Williams, Andre NYG RB | $2.00 | Justin Howe |
| Williams, Terrance DAL WR | $2.00 | Dan Hindery |
| Allen, Javorius BAL RB | $1.00 | Justin Howe |
| Asiata, Matt MIN RB | $1.00 | Matt Harmon |
| Bailey, Dan DAL PK | $1.00 | Matt Waldman |
| Baldwin, Doug SEA WR | $1.00 | Mark Wimer |
| Ball, Montee DEN RB | $1.00 | Matt Waldman |
| Beasley, Cole DAL WR | $1.00 | Justin Howe |
| Bengals, Cincinnati CIN Def | $1.00 | Dan Hindery |
| Bowe, Dwayne CLE WR | $1.00 | Jeff Tefertiller |
| Britt, Kenny STL WR | $1.00 | Matt Waldman |
| Broncos, Denver DEN Def | $1.00 | Jeff Tefertiller |
| Bryant, Matt ATL PK | $1.00 | Matt Harmon |
| Bullock, Randy HOU PK | $1.00 | Mark Wimer |
| Bush, Reggie SFO RB | $1.00 | Mark Wimer |
| Cardinals, Arizona ARI Def | $1.00 | Sigmund Bloom |
| Carpenter, Dan BUF PK | $1.00 | Sigmund Bloom |
| Carr, Derek OAK QB | $1.00 | Jeff Tefertiller |
| Chiefs, Kansas City KCC Def | $1.00 | Matt Harmon |
| Colts, Indianapolis IND Def | $1.00 | Daniel Simpkins |
| Conley, Chris KCC WR | $1.00 | Matt Waldman |
| Crabtree, Michael OAK WR | $1.00 | Dan Hindery |
| Crosby, Mason GBP PK | $1.00 | Jeff Haseley |
| Cutler, Jay CHI QB | $1.00 | Jeff Tefertiller |
| Dalton, Andy CIN QB | $1.00 | Dan Hindery |
| Dunbar, Lance DAL RB | $1.00 | Sigmund Bloom |
| Eagles, Philadelphia PHI Def | $1.00 | Justin Howe |
| Fitzpatrick, Ryan NYJ QB | $1.00 | Sigmund Bloom |
| Fleener, Coby IND TE | $1.00 | Justin Howe |
| Foles, Nick STL QB | $1.00 | Matt Harmon |
| Gostkowski, Stephen NEP PK | $1.00 | Dan Hindery |
| Green, Ladarius SDC TE | $1.00 | Jeff Tefertiller |
| Green, Virgil DEN TE | $1.00 | Matt Harmon |
| Green-Beckham, Dorial TEN WR | $1.00 | Matt Waldman |
| Griffin III, Robert WAS QB | $1.00 | Matt Harmon |
| Hankerson, Leonard ATL WR | $1.00 | Matt Waldman |
| Harvin, Percy BUF WR | $1.00 | Andy Hicks |
| Hauschka, Steven SEA PK | $1.00 | Jeff Tefertiller |
| Herron, Dan IND RB | $1.00 | Dan Hindery |
| Huff, Josh PHI WR | $1.00 | Sigmund Bloom |
| Hunter, Justin TEN WR | $1.00 | Sigmund Bloom |
| Hurns, Allen JAC WR | $1.00 | Matt Harmon |
| Jackson, Fred BUF RB | $1.00 | Jeff Tefertiller |
| Jennings, Greg MIA WR | $1.00 | Justin Howe |
| Jets, New York NYJ Def | $1.00 | Matt Bitonti |
| Johnson, Chris ARI RB | $1.00 | Matt Waldman |
| Kaepernick, Colin SFO QB | $1.00 | Mark Wimer |
| Kearse, Jermaine SEA WR | $1.00 | Mark Wimer |
| Manziel, Johnny CLE QB | $1.00 | Sigmund Bloom |
| Mariota, Marcus TEN QB | $1.00 | Justin Howe |
| Miller, Heath PIT TE | $1.00 | Sigmund Bloom |
| Moncrief, Donte IND WR | $1.00 | Dan Hindery |
| Oliver, Branden SDC RB | $1.00 | Matt Harmon |
| Osweiler, Brock DEN QB | $1.00 | Jeff Tefertiller |
| Packers, Green Bay GBP Def | $1.00 | Mark Wimer |
| Parkey, Cody PHI PK | $1.00 | Justin Howe |
| Patriots, New England NEP Def | $1.00 | Jeff Haseley |
| Polk, Chris HOU RB | $1.00 | Matt Bitonti |
| Rams, St. Louis STL Def | $1.00 | Andy Hicks |
| Ravens, Baltimore BAL Def | $1.00 | Matt Harmon |
| Reed, Jordan WAS TE | $1.00 | Justin Howe |
| Robinson, Khiry NOS RB | $1.00 | Justin Howe |
| Rodgers, Richard GBP TE | $1.00 | Justin Howe |
| Sanchez, Mark PHI QB | $1.00 | Jeff Tefertiller |
| Sanu, Mohamed CIN WR | $1.00 | Matt Harmon |
| Smith, Alex KCC QB | $1.00 | Justin Howe |
| Starks, James GBP RB | $1.00 | Matt Waldman |
| Taliaferro, Lorenzo BAL RB | $1.00 | Matt Bitonti |
| Tamme, Jacob ATL TE | $1.00 | Matt Waldman |
| Taylor, Tyrod BUF QB | $1.00 | Matt Harmon |
| Texans, Houston HOU Def | $1.00 | Dan Hindery |
| Vinatieri, Adam IND PK | $1.00 | Chad Parsons |
| West, Terrance CLE RB | $1.00 | Matt Harmon |
| Wheaton, Markus PIT WR | $1.00 | Matt Bitonti |
| White, James NEP RB | $1.00 | Dan Hindery |
| White, Kevin CHI WR | $1.00 | Daniel Simpkins |
| Williams, Damien MIA RB | $1.00 | Matt Harmon |
| Williams, Karlos BUF RB | $1.00 | Matt Waldman |
| Wilson, Albert KCC WR | $1.00 | Matt Harmon |
| Wilson, Marquess CHI WR | $1.00 | Matt Harmon |
| Woods, Robert BUF WR | $1.00 | Matt Waldman |
| Zenner, Zach DET RB | $1.00 | Sigmund Bloom |
| Colts, Indianapolis IND Def | $1.00 | Sigmund Bloom |
| Packers, Green Bay GBP Def | $1.00 | Aaron Rudnicki |
| Patriots, New England NEP Def | $1.00 | Maurile Tremblay |
| Ravens, Baltimore BAL Def | $1.00 | Aaron Rudnicki |
| Vikings, Minnesota MIN Def | $1.00 | Jeff Haseley |
By Position - Sorted High to Low
| | | |
| --- | --- | --- |
| By Position | Winning Bid | Winning Bidder |
| Rodgers, Aaron GBP QB | $34.00 | Justin Howe |
| Luck, Andrew IND QB | $31.00 | Dan Hindery |
| Wilson, Russell SEA QB | $17.00 | Mark Wimer |
| Manning, Peyton DEN QB | $14.00 | Daniel Simpkins |
| Roethlisberger, Ben PIT QB | $14.00 | Matt Waldman |
| Brees, Drew NOS QB | $10.00 | Matt Waldman |
| Ryan, Matt ATL QB | $9.00 | Jeff Haseley |
| Stafford, Matthew DET QB | $9.00 | Matt Bitonti |
| Tannehill, Ryan MIA QB | $8.00 | Chad Parsons |
| Romo, Tony DAL QB | $6.00 | Andy Hicks |
| Manning, Eli NYG QB | $5.00 | Andy Hicks |
| Brady, Tom NEP QB | $4.00 | Sigmund Bloom |
| Bridgewater, Teddy MIN QB | $4.00 | Andy Hicks |
| Newton, Cam CAR QB | $4.00 | Daniel Simpkins |
| Rivers, Philip SDC QB | $4.00 | Matt Bitonti |
| Bradford, Sam PHI QB | $3.00 | Chad Parsons |
| Palmer, Carson ARI QB | $2.00 | Jeff Haseley |
| Carr, Derek OAK QB | $1.00 | Jeff Tefertiller |
| Cutler, Jay CHI QB | $1.00 | Jeff Tefertiller |
| Dalton, Andy CIN QB | $1.00 | Dan Hindery |
| Fitzpatrick, Ryan NYJ QB | $1.00 | Sigmund Bloom |
| Foles, Nick STL QB | $1.00 | Matt Harmon |
| Griffin III, Robert WAS QB | $1.00 | Matt Harmon |
| Kaepernick, Colin SFO QB | $1.00 | Mark Wimer |
| Manziel, Johnny CLE QB | $1.00 | Sigmund Bloom |
| Mariota, Marcus TEN QB | $1.00 | Justin Howe |
| Osweiler, Brock DEN QB | $1.00 | Jeff Tefertiller |
| Sanchez, Mark PHI QB | $1.00 | Jeff Tefertiller |
| Smith, Alex KCC QB | $1.00 | Justin Howe |
| Taylor, Tyrod BUF QB | $1.00 | Matt Harmon |
| Bell, Le'Veon PIT RB | $50.00 | Matt Waldman |
| Peterson, Adrian MIN RB | $47.00 | Matt Waldman |
| Charles, Jamaal KCC RB | $44.00 | Sigmund Bloom |
| Lacy, Eddie GBP RB | $44.00 | Dan Hindery |
| Anderson, C.J. DEN RB | $42.00 | Jeff Haseley |
| Lynch, Marshawn SEA RB | $41.00 | Justin Howe |
| Forte, Matt CHI RB | $38.00 | Andy Hicks |
| Gore, Frank IND RB | $36.00 | Sigmund Bloom |
| Miller, Lamar MIA RB | $33.00 | Matt Harmon |
| Hill, Jeremy CIN RB | $32.00 | Daniel Simpkins |
| Murray, DeMarco PHI RB | $32.00 | Dan Hindery |
| Forsett, Justin BAL RB | $31.00 | Matt Bitonti |
| Ellington, Andre ARI RB | $29.00 | Sigmund Bloom |
| Ingram, Mark NOS RB | $28.00 | Daniel Simpkins |
| Abdullah, Ameer DET RB | $27.00 | Jeff Haseley |
| McCoy, LeSean BUF RB | $26.00 | Jeff Tefertiller |
| Gurley, Todd STL RB | $25.00 | Jeff Tefertiller |
| Spiller, C.J. NOS RB | $23.00 | Chad Parsons |
| Yeldon, T.J. JAC RB | $23.00 | Daniel Simpkins |
| Gordon, Melvin SDC RB | $22.00 | Andy Hicks |
| Randle, Joseph DAL RB | $22.00 | Mark Wimer |
| Morris, Alfred WAS RB | $18.00 | Andy Hicks |
| Murray, Latavius OAK RB | $18.00 | Mark Wimer |
| Ivory, Chris NYJ RB | $17.00 | Matt Bitonti |
| Stewart, Jonathan CAR RB | $14.00 | Sigmund Bloom |
| Bernard, Giovani CIN RB | $12.00 | Chad Parsons |
| Hyde, Carlos SFO RB | $12.00 | Andy Hicks |
| Martin, Doug TBB RB | $12.00 | Justin Howe |
| Blount, LeGarrette NEP RB | $10.00 | Jeff Haseley |
| Crowell, Isaiah CLE RB | $9.00 | Mark Wimer |
| Bell, Joique DET RB | $8.00 | Chad Parsons |
| Johnson, Duke CLE RB | $8.00 | Dan Hindery |
| Foster, Arian HOU RB | $7.00 | Daniel Simpkins |
| Jennings, Rashad NYG RB | $7.00 | Daniel Simpkins |
| Jones, Matt WAS RB | $7.00 | Chad Parsons |
| Vereen, Shane NYG RB | $7.00 | Chad Parsons |
| Coleman, Tevin ATL RB | $6.00 | Matt Bitonti |
| Cobb, David TEN RB | $5.00 | Mark Wimer |
| Johnson, David ARI RB | $4.00 | Daniel Simpkins |
| Langford, Jeremy CHI RB | $4.00 | Andy Hicks |
| Mathews, Ryan PHI RB | $4.00 | Chad Parsons |
| Riddick, Theo DET RB | $4.00 | Jeff Haseley |
| Woodhead, Danny SDC RB | $4.00 | Jeff Tefertiller |
| Blue, Alfred HOU RB | $3.00 | Matt Bitonti |
| Davis, Knile KCC RB | $3.00 | Justin Howe |
| Mason, Tre STL RB | $3.00 | Jeff Tefertiller |
| McFadden, Darren DAL RB | $3.00 | Jeff Haseley |
| Sankey, Bishop TEN RB | $3.00 | Chad Parsons |
| Sims, Charles TBB RB | $3.00 | Daniel Simpkins |
| Sproles, Darren PHI RB | $3.00 | Jeff Haseley |
| Williams, DeAngelo PIT RB | $3.00 | Daniel Simpkins |
| Artis-Payne, Cameron CAR RB | $2.00 | Dan Hindery |
| Freeman, Devonta ATL RB | $2.00 | Dan Hindery |
| Gray, Jonas NEP RB | $2.00 | Jeff Haseley |
| Helu, Roy OAK RB | $2.00 | Jeff Tefertiller |
| McKinnon, Jerick MIN RB | $2.00 | Matt Bitonti |
| Williams, Andre NYG RB | $2.00 | Justin Howe |
| Allen, Javorius BAL RB | $1.00 | Justin Howe |
| Asiata, Matt MIN RB | $1.00 | Matt Harmon |
| Ball, Montee DEN RB | $1.00 | Matt Waldman |
| Bush, Reggie SFO RB | $1.00 | Mark Wimer |
| Dunbar, Lance DAL RB | $1.00 | Sigmund Bloom |
| Herron, Dan IND RB | $1.00 | Dan Hindery |
| Jackson, Fred BUF RB | $1.00 | Jeff Tefertiller |
| Johnson, Chris ARI RB | $1.00 | Matt Waldman |
| Oliver, Branden SDC RB | $1.00 | Matt Harmon |
| Polk, Chris HOU RB | $1.00 | Matt Bitonti |
| Robinson, Khiry NOS RB | $1.00 | Justin Howe |
| Starks, James GBP RB | $1.00 | Matt Waldman |
| Taliaferro, Lorenzo BAL RB | $1.00 | Matt Bitonti |
| West, Terrance CLE RB | $1.00 | Matt Harmon |
| White, James NEP RB | $1.00 | Dan Hindery |
| Williams, Damien MIA RB | $1.00 | Matt Harmon |
| Williams, Karlos BUF RB | $1.00 | Matt Waldman |
| Zenner, Zach DET RB | $1.00 | Sigmund Bloom |
| Jones, Julio ATL WR | $50.00 | Matt Harmon |
| Brown, Antonio PIT WR | $47.00 | Matt Bitonti |
| Bryant, Dez DAL WR | $47.00 | Justin Howe |
| Johnson, Calvin DET WR | $45.00 | Jeff Tefertiller |
| Beckham, Odell NYG WR | $43.00 | Matt Harmon |
| Nelson, Jordy GBP WR | $41.00 | Andy Hicks |
| Thomas, Demaryius DEN WR | $41.00 | Mark Wimer |
| Green, A.J. CIN WR | $38.00 | Matt Waldman |
| Evans, Mike TBB WR | $34.00 | Matt Harmon |
| Cobb, Randall GBP WR | $33.00 | Chad Parsons |
| Hilton, T.Y. IND WR | $33.00 | Jeff Haseley |
| Jeffery, Alshon CHI WR | $31.00 | Chad Parsons |
| Cooks, Brandin NOS WR | $30.00 | Chad Parsons |
| Hopkins, DeAndre HOU WR | $30.00 | Sigmund Bloom |
| Matthews, Jordan PHI WR | $29.00 | Justin Howe |
| Allen, Keenan SDC WR | $25.00 | Matt Bitonti |
| Bryant, Martavis PIT WR | $25.00 | Jeff Tefertiller |
| Sanders, Emmanuel DEN WR | $25.00 | Dan Hindery |
| Robinson, Allen JAC WR | $21.00 | Daniel Simpkins |
| Cooper, Amari OAK WR | $19.00 | Dan Hindery |
| Landry, Jarvis MIA WR | $18.00 | Sigmund Bloom |
| Edelman, Julian NEP WR | $17.00 | Daniel Simpkins |
| Johnson, Andre IND WR | $16.00 | Andy Hicks |
| Tate, Golden DET WR | $16.00 | Jeff Haseley |
| Marshall, Brandon NYJ WR | $15.00 | Dan Hindery |
| Brown, John ARI WR | $14.00 | Mark Wimer |
| Adams, Davante GBP WR | $13.00 | Jeff Haseley |
| Agholor, Nelson PHI WR | $13.00 | Mark Wimer |
| Jackson, Vincent TBB WR | $13.00 | Justin Howe |
| Wallace, Mike MIN WR | $13.00 | Daniel Simpkins |
| Maclin, Jeremy KCC WR | $12.00 | Matt Bitonti |
| Watkins, Sammy BUF WR | $12.00 | Jeff Haseley |
| Jackson, DeSean WAS WR | $11.00 | Andy Hicks |
| Johnson, Charles MIN WR | $9.00 | Sigmund Bloom |
| Cruz, Victor NYG WR | $8.00 | Matt Bitonti |
| Decker, Eric NYJ WR | $8.00 | Justin Howe |
| Fitzgerald, Larry ARI WR | $8.00 | Matt Bitonti |
| White, Roddy ATL WR | $8.00 | Chad Parsons |
| Johnson, Stevie SDC WR | $7.00 | Jeff Haseley |
| Royal, Eddie CHI WR | $7.00 | Mark Wimer |
| Floyd, Michael ARI WR | $6.00 | Daniel Simpkins |
| Funchess, Devin CAR WR | $6.00 | Mark Wimer |
| Smith, Steve BAL WR | $6.00 | Andy Hicks |
| Smith, Torrey SFO WR | $6.00 | Daniel Simpkins |
| Colston, Marques NOS WR | $5.00 | Chad Parsons |
| LaFell, Brandon NEP WR | $5.00 | Jeff Tefertiller |
| Parker, DeVante MIA WR | $5.00 | Jeff Tefertiller |
| Wright, Kendall TEN WR | $5.00 | Daniel Simpkins |
| Dorsett, Phillip IND WR | $4.00 | Chad Parsons |
| Boldin, Anquan SFO WR | $3.00 | Andy Hicks |
| Garcon, Pierre WAS WR | $3.00 | Matt Bitonti |
| Jones, Marvin CIN WR | $3.00 | Matt Waldman |
| Patterson, Cordarrelle MIN WR | $3.00 | Andy Hicks |
| Perriman, Breshad BAL WR | $3.00 | Chad Parsons |
| Stills, Kenny MIA WR | $3.00 | Sigmund Bloom |
| Coleman, Brandon NOS WR | $2.00 | Mark Wimer |
| Latimer, Cody DEN WR | $2.00 | Matt Waldman |
| Quick, Brian STL WR | $2.00 | Jeff Haseley |
| Randle, Rueben NYG WR | $2.00 | Sigmund Bloom |
| Shorts, Cecil HOU WR | $2.00 | Jeff Tefertiller |
| Williams, Terrance DAL WR | $2.00 | Dan Hindery |
| Baldwin, Doug SEA WR | $1.00 | Mark Wimer |
| Beasley, Cole DAL WR | $1.00 | Justin Howe |
| Bowe, Dwayne CLE WR | $1.00 | Jeff Tefertiller |
| Britt, Kenny STL WR | $1.00 | Matt Waldman |
| Conley, Chris KCC WR | $1.00 | Matt Waldman |
| Crabtree, Michael OAK WR | $1.00 | Dan Hindery |
| Green-Beckham, Dorial TEN WR | $1.00 | Matt Waldman |
| Hankerson, Leonard ATL WR | $1.00 | Matt Waldman |
| Harvin, Percy BUF WR | $1.00 | Andy Hicks |
| Huff, Josh PHI WR | $1.00 | Sigmund Bloom |
| Hunter, Justin TEN WR | $1.00 | Sigmund Bloom |
| Hurns, Allen JAC WR | $1.00 | Matt Harmon |
| Jennings, Greg MIA WR | $1.00 | Justin Howe |
| Kearse, Jermaine SEA WR | $1.00 | Mark Wimer |
| Moncrief, Donte IND WR | $1.00 | Dan Hindery |
| Sanu, Mohamed CIN WR | $1.00 | Matt Harmon |
| Wheaton, Markus PIT WR | $1.00 | Matt Bitonti |
| White, Kevin CHI WR | $1.00 | Daniel Simpkins |
| Wilson, Albert KCC WR | $1.00 | Matt Harmon |
| Wilson, Marquess CHI WR | $1.00 | Matt Harmon |
| Woods, Robert BUF WR | $1.00 | Matt Waldman |
| Gronkowski, Rob NEP TE | $49.00 | Jeff Tefertiller |
| Kelce, Travis KCC TE | $25.00 | Matt Harmon |
| Graham, Jimmy SEA TE | $20.00 | Matt Waldman |
| Olsen, Greg CAR TE | $19.00 | Mark Wimer |
| Bennett, Martellus CHI TE | $17.00 | Mark Wimer |
| Cameron, Jordan MIA TE | $8.00 | Jeff Haseley |
| Ertz, Zach PHI TE | $7.00 | Dan Hindery |
| Eifert, Tyler CIN TE | $5.00 | Dan Hindery |
| Thomas, Julius JAC TE | $4.00 | Matt Bitonti |
| Walker, Delanie TEN TE | $4.00 | Matt Bitonti |
| Witten, Jason DAL TE | $4.00 | Chad Parsons |
| Allen, Dwayne IND TE | $3.00 | Daniel Simpkins |
| Hill, Josh NOS TE | $3.00 | Chad Parsons |
| Rudolph, Kyle MIN TE | $3.00 | Jeff Haseley |
| Daniels, Owen DEN TE | $2.00 | Jeff Haseley |
| Davis, Vernon SFO TE | $2.00 | Andy Hicks |
| Donnell, Larry NYG TE | $2.00 | Sigmund Bloom |
| Ebron, Eric DET TE | $2.00 | Andy Hicks |
| Gates, Antonio SDC TE | $2.00 | Andy Hicks |
| Seferian-Jenkins, Austin TBB TE | $2.00 | Daniel Simpkins |
| Fleener, Coby IND TE | $1.00 | Justin Howe |
| Green, Ladarius SDC TE | $1.00 | Jeff Tefertiller |
| Green, Virgil DEN TE | $1.00 | Matt Harmon |
| Miller, Heath PIT TE | $1.00 | Sigmund Bloom |
| Reed, Jordan WAS TE | $1.00 | Justin Howe |
| Rodgers, Richard GBP TE | $1.00 | Justin Howe |
| Tamme, Jacob ATL TE | $1.00 | Matt Waldman |
| Barth, Connor TBB PK | $13.00 | Matt Bitonti |
| Tucker, Justin BAL PK | $3.00 | Andy Hicks |
| Bailey, Dan DAL PK | $1.00 | Matt Waldman |
| Bryant, Matt ATL PK | $1.00 | Matt Harmon |
| Bullock, Randy HOU PK | $1.00 | Mark Wimer |
| Carpenter, Dan BUF PK | $1.00 | Sigmund Bloom |
| Crosby, Mason GBP PK | $1.00 | Jeff Haseley |
| Gostkowski, Stephen NEP PK | $1.00 | Dan Hindery |
| Hauschka, Steven SEA PK | $1.00 | Jeff Tefertiller |
| Parkey, Cody PHI PK | $1.00 | Justin Howe |
| Vinatieri, Adam IND PK | $1.00 | Chad Parsons |
| Seahawks, Seattle SEA Def | $5.00 | Matt Waldman |
| Bills, Buffalo BUF Def | $4.00 | Mark Wimer |
| Dolphins, Miami MIA Def | $2.00 | Chad Parsons |
| Bengals, Cincinnati CIN Def | $1.00 | Dan Hindery |
| Broncos, Denver DEN Def | $1.00 | Jeff Tefertiller |
| Cardinals, Arizona ARI Def | $1.00 | Sigmund Bloom |
| Chiefs, Kansas City KCC Def | $1.00 | Matt Harmon |
| Colts, Indianapolis IND Def | $1.00 | Daniel Simpkins |
| Eagles, Philadelphia PHI Def | $1.00 | Justin Howe |
| Jets, New York NYJ Def | $1.00 | Matt Bitonti |
| Packers, Green Bay GBP Def | $1.00 | Mark Wimer |
| Patriots, New England NEP Def | $1.00 | Jeff Haseley |
| Rams, St. Louis STL Def | $1.00 | Andy Hicks |
| Ravens, Baltimore BAL Def | $1.00 | Matt Harmon |
| Texans, Houston HOU Def | $1.00 | Dan Hindery |
Questions, suggestions and comments are always welcome to haseley@footballguys.com
---
More articles from Jeff Haseley
See all
More articles on: Auction
See all
More articles on: Player Articles
See all
More articles on: Strategy
See all