Urban Meyer always talked about his focus on rivalry games when evaluating the top high school prospects and looking for diamonds in the rough. "I want to see it in your rivalry game," Meyer told a group of prospective recruits. "I want to see it on fourth down, when the team needs you. Not when you're running around in shorts and t-shirts doing vertical jumps."
With the NFL combine kicking off later this month and #DraftTwitter readying to take over our timelines for the next couple months, we are about to be inundated with detailed scouting reports, stats breaking down college production by age, and analytics based upon body type and combine numbers. All of these are important parts of the process and have their value. However, for those who are not college football fans and did not watch a lot of games live in the fall, it is sometimes hard to put all of this information into context. We can lose sight of the forest for the trees at times. Reviewing some of these prospects through the lens of how they performed in the most important and stressful game situations should also be a big part of the evaluation process. How did the players perform when the pressure was highest and the emotions the most intense?
We saw many of the stars from the 2019 rookie class come up with huge performances in rivalry games. A.J. Brown's 6-catch, 167-yard performance against Mississippi State in the 2017 Egg Bowl was the perfect example of a talented player putting his team on his back in a high-pressure situation. Deebo Samuel's 10 catches for 210 yards and 3 touchdowns against in-state rival (and eventual national champion) Clemson in 2018 was another textbook case of a talented player starring in a high-pressure rivalry game. If players are able to thrive in these big rivalry games where local bragging rights are at stake and the blood is up, they are more likely to handle the transition to the bigger stage of the NFL with ease.
With that context in mind, let's countdown the 10 best performances by top offensive draft prospects in rivalry games last season.
10. Denzel Mims, Baylor vs. TCU
Stats: 6 catches for 67 yards and 2 touchdowns
Baylor's rivalry with TCU is one of the oldest most played in all of college football. The series began way back in 1899 when TCU was located across town from Baylor in Waco, Texas. In 2019, Baylor took their perfect 8-0 record on the road against an upset-minded 4-4 TCU team.
TCU head coach Gary Patterson has a Belichikian knack for scheming up ways to take away the opposing team's top pass catcher. TCU was able to take away Denzel Mims for most of the game and regulation ended with the teams locked in a 9-9 tie. However, TCU's efforts to take away Mims eventually faltered.
With Baylor trailing in double overtime and facing a 4th-and-6. Mims made this beautiful catch away from his body for a 21-yard touchdown to keep Baylor's hopes alive and send the game to triple overtime.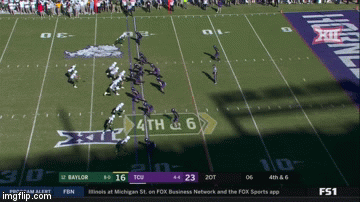 On Baylor's possession in triple overtime, Mims made a leaping grab in the corner of the end zone to win the game and keep Baylor's perfect season alive for one more week.
The numbers don't jump off the page for Mims in this game but he made the winning plays when Baylor needed him the most, which is what this list is all about.
9. Michael Pittman, USC vs. UCLA
Stats: 13 catches for 104 yards and 2 touchdowns
The crosstown rivalry between UCLA and USC has lost some luster in recent years but the 89th meeting between the two was a fun, high-scoring affair that USC won 52-35. True freshman quarterback Kedon Slovis had a huge day and top receiver Michael Pittman led the way with 13 catches and a pair of short touchdowns.
This was one of four games in 2019 that Pittman had at least 10 catches and 100 receiving yards. He was especially dominant down the stretch of the regular season. In four November games, Pittman averaged 11.3 catches for 117 yards and 1.0 touchdowns per game.
8. Eno Benjamin, Arizona State vs. Arizona
Stats: 34 carries for 168 yards and 2 touchdowns
3 catches for 14 yards
The Sun Devils finished off their 7-5 regular season with a 24-14 home win over the Wildcats. Benjamin racked up nearly half of Arizona State's total offensive production on his own. Benjamin is not the biggest guy (5'10, 201 pounds) but proved in games like this one (37 touches) that he could be a workhorse at the college level.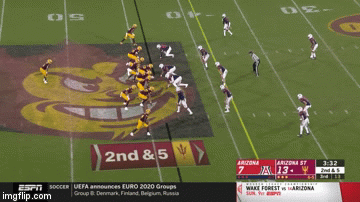 7. Zach Moss, Utah vs. BYU
Stats: 29 carries for 187 yards and 1 touchdown
2 catches for 7 yards
Zach Moss suffered a season-ending knee injury late in the 2018 season and had offseason surgery. If there were any questions as to whether he would still be a force after coming back from the injury, he put those to rest in Utah's opening-week 30-12 victory over BYU. After months of offseason hype and some trash talk leading up to the game, Utah physically dominated BYU and Moss led the charge. There were not many big gainers but Moss was consistently able to break tackles and pick up extra yardage after contact. By the fourth quarter, the physicality of Moss was too much for BYU and he imposed his will on runs like the one below to help Utah put the game away.
6. Jonathan Taylor, Wisconsin vs. Minnesota
Stats: 18 carries 76 yards and 2 touchdowns
2 catches for 39 yards and 1 touchdown
While the first four games highlighted above were all in-state rivalries, the battle for Paul Bunyan's Axe pits neighboring state schools that have faced off against each other 129 times. Wisconsin had dominated this series of late and was riding a 14-game winning streak against Minnesota before being upset by the Gophers to end the 2018 season. The much-hyped 2019 matchup featured an ascendant Minnesota team ranked in the Top 10. In addition to the axe, the winner of the game would win the Big 10 West division and head to the Big 10 championship game.
Minnesota stacked the box to limit Taylor early, which forced Wisconsin to get creative in finding ways for him to make an impact. On this play, he beat the Gophers for a long receiving touchdown: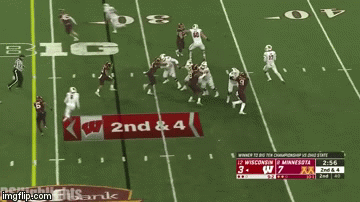 The Badgers coaching staff trusting Taylor to make a play as a receiver in a big spot highlights the progress Taylor has made as a pass catcher. With the snow falling hard in the second half, Taylor put the game away with a pair of fourth quarter touchdown runs.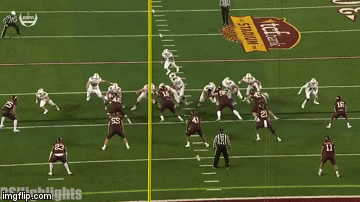 The big rivalry win over Minnesota put the Badgers into the Big Ten Championship game, where Taylor played even better and Wisconsin almost upset Ohio State.
5. Brycen Hopkins, Purdue vs. Indiana
Stats: 8 catches for 142 yards and 2 touchdowns
The battle for The Old Oaken Bucket was one of the most entertaining football games of the 2019 season. The week before this game, tight end Brycen Hopkins had 8 catches for 127 yards and 2 touchdowns in a loss to Wisconsin that eliminated Purdue from bowl eligibility. Thus, Senior Day against Indiana would be the last game of Hopkins' college career.
With the Boilermakers struggling offensively and trailing 14-3 in the second quarter, Hopkins got loose for this 72-yard touchdown to get Purdue back in the game:
There are few tight ends in this draft class with the speed to outrun defensive backs like Hopkins shows off here. Purdue's offense, with Hopkins leading the way, started rolling. Purdue scored a late touchdown to force overtime.
Facing 4th-and-goal from the six-yard line and with the game on the line in overtime, Hopkins made this touchdown grab to keep Purdue's hopes alive:
While Purdue would eventually lose 44-41 in double overtime, it was a clutch effort from Hopkins.
4. Lynn Bowden, Kentucky vs. Louisville
Stats: 1/2 passing for 4 yards
22 carries for 284 yards and 4 touchdowns
Lynn Bowden is a gamer. He led Kentucky in receiving as a sophomore in 2018 with 67 catches for 745 yards. He was on pace to easily surpass those numbers in 2019 with 27 catches for 330 yards through just four games (a full-season pace of 95 catches for 1,073 yards). After starting quarterback Terry Wilson went down with an injury and the backup struggled mightily and the team starting out 0-3 in the SEC, Kentucky decided to move Bowden from wide receiver to quarterback full-time starting in Week 6.
With Bowden at quarterback, Kentucky won six of their final eight games. He rushed for at least 99 yards in every single game but saved his best performance for the season finale against in-state rival, Louisville. On a rainy afternoon, he attempted just two passes but rushed for 284 yards and 4 touchdowns. Three of the touchdowns came from long distance, including this impressive run: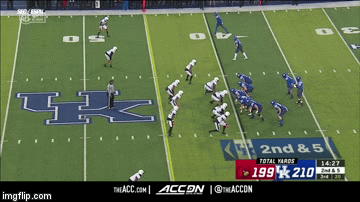 Bowden has had a knack for making big plays in key situations throughout his career and will be a fun wide receiver prospect to follow. He may have some added value for a creative coaching staff due to his ability to step in at quarterback situationally.
3. J.K. Dobbins, Ohio State vs. Michigan
Stats: 31 carries for 211 yards and 4 touchdowns
2 catches for 49 yards
Ohio State went into Ann Arbor as 8-point favorites and dominated Michigan for their 15th win in the last 16 meetings. The Buckeyes fell behind early but quickly took back the lead on a long drive keyed by Dobbins, who made a defender miss badly on this 3rd-and-14 to setup his first touchdown (on the very next play):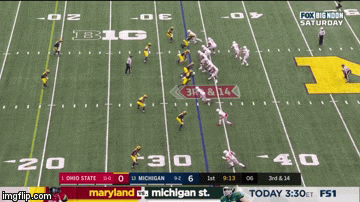 On a key 3rd-and-4 just before halftime, the Buckeyes handed it off to Dobbins and he made this fantastic 6-yard touchdown run:
Dobbins put the final nail in the coffin with a 33-yard touchdown midway through the third quarter. Even after 30 touches, he was still a step faster than Michigan defenders: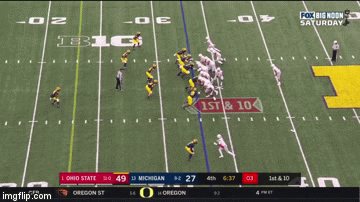 With 260 yards, Dobbins accounted for nearly half of Ohio State's offensive yardage total. It was one of the most dominant performances by a running back in the long history of The Game but was just one of many monster games by Dobbins against a top-ranked defense during a special 2019 season.
2. CeeDee Lamb, Oklahoma vs. Texas
Stats: 10 catches for 171 yards and 3 touchdowns
1 rush for 4 yards
Oklahoma came into The Red River Shootout 5-0 and ranked No. 4 facing a 4-1 Texas team (only loss coming in was 45-38 to LSU). Oklahoma's offense had a surprisingly tough time with the Texas defense for most of the day. Things were especially difficult through the air when Jalen Hurts targeted anyone other than CeeDee Lamb. In fact, the rest of the Sooners pass catchers combined for just 6 catches and 64 receiving yards.
Lamb scored an early touchdown to give Oklahoma a 7-0 lead but then the offense went stagnant for two quarters before Lamb put the Sooners offense on his back. With the game tied 10-10, Lamb weaved his way through a handful of Texas defenders on this ridiculous 51-yard catch and run: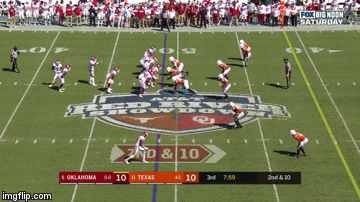 With Oklahoma clinging to a 20-17 point lead in the fourth quarter, Lamb again pulled a Houdini act and escaped a pair of tacklers for a 27-yard touchdown.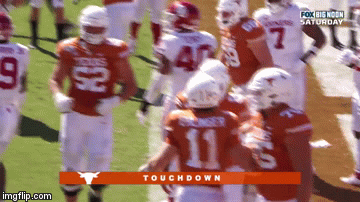 My choice to fade Lamb in college football DFS on this fall Saturday made for a not so fun afternoon. You could make a case that Lamb's Red River Shootout performance should rank below a couple of the running back performances we just highlighted. However, it is harder to take over a game as a receiver, which makes Lamb's ability to do so in Oklahoma's biggest regular season game all the more impressive.
1. Clyde Edwards-Helaire, LSU vs. Alabama
Stats: 20 carries for 103 yards and 3 touchdowns
9 catches for 77 yards and 1 touchdown
Alabama's decade of dominance over LSU seemed to take a toll on the psyche of LSU fans. As LSU head coach Ed Orgeron noted after the game, he couldn't even walk into a 7-Eleven to buy a Red Bull in the offseason without a Tigers fan asking him when he would beat Alabama. LSU finally getting the monkey off of their backs by going on the road and taking down the Crimson Tide made for what was easily the best story of the college football regular season.
Many LSU offensive players deserve kudos for their performance under the lights at Bryant-Denny Stadium. Joe Burrow was fantastic and his top receivers made some tough catches, as well. However, whenever LSU really seemed to need a play, it was unheralded running back Clyde Edwards-Helaire stepping up and making things happen with an incredible individual effort play.
He set the tone for what would come on LSU's very first offensive play. Spinning out of a tackle in the backfield and then making a man miss to pick up nine yards:
Edwards-Helaire ran a nice route to get open for a 13-yard touchdown catch in the final seconds before halftime to give LSU a commanding 20-point lead at the break:
Alabama found its footing in the second half and pulled within six points heading into the fourth quarter. The Crimson Tide was about to get the ball back with a chance to take the lead when Edwards-Helaire made this game-changing catch and run on 3rd-and-10: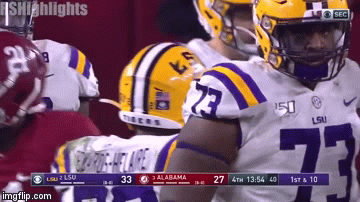 Seeing the play from another angle, it is an even more impressive than watching live. He extends down below his knees to make the fingertip grab and then has the presence of mind and body control to stay in-bounds, get by the first defender and push his way for the first down.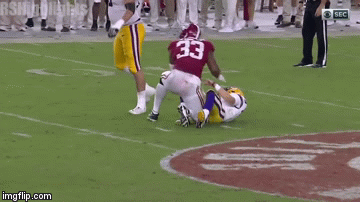 After keeping the drive alive, he scored his third touchdown of the game on a pretty spin move to put LSU back up two scores: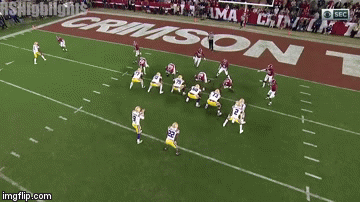 He scored his fourth touchdown late to seemingly put the game away but Alabama quickly hit a long touchdown pass to make it a one score game again. Alabama had two timeouts and an opportunity to get the ball back for a last chance to win the game. Edwards-Helaire quickly dashed those faint hopes with this powerful 12-yard run up the gut to ice the win:
With that, LSU got over the hump against Alabama and cruised to their first national championship in more than a decade.
The 180-yard, 9-catch, 4-touchdown performance by Edwards-Helaire was the most impressive rivalry game performance by a top draft prospect I saw. Disagree with the order? Was there a big-time rivalry performance overlooked? Please let me know about it on twitter (@hindery).
---
More articles from Dan Hindery
See all
More articles on: Rookie
See all