This is the fourth year putting together these rankings and the hope is that the process behind them continues to improve each year. Back in 2016, I detailed my approach and the five main factors to consider. This is my attempt to take in and parse a lot of information and provide a starting point for your own rankings. Make your own talent judgments. I am not a tape grinder and have no delusions of grandeur regarding scouting ability. Where I hope to add value is in lending some context to each player's production to date, explaining the implications of the spot they have earned on the depth chart, and giving my own opinion on the relative talent levels of each player for what that is worth.
Coming at this from a bit of a different angle hopefully adds to the greater conversation in the community. While not a scout, I am an avid college DFS player and spend a lot of time each week trying to figure out relative talent disparity between teams and players to make accurate weekly fantasy projections. Also, being a longtime college football fan and follower of recruiting helps when trying to add context.
The article is broken into three parts:
Summary for non-devy dynasty players. Even if you aren't playing the devy format, it is helpful to know the relative strengths of the upcoming draft classes to properly value future rookie picks. This section is a quick overview to familiarize you with the names of the top prospects and give you an idea of which positions will be strongest in future drafts.
Over-arching trends. A look at some of the big-picture trends in both college football and the NFL and how they impact the devy rankings.
The Devy Top 100. A listing and breakdown of the top prospects.
Part 1: Summary
If you are trying to determine the value of 2020 and 2021 rookie picks and want to look ahead at what the positional and overall class strenghtsrn and weaknesses are, this summary should prove useful.
The 2020 Class
Next year's draft class looks loaded, though in a different way than would have been predicted at this time last year.
The 2020 running back class is above-average but it doesn't look as special as it once did. After so many backs burst onto the scene and starred as true freshmen, many of those same backs slumped as sophomores (for example, J.K. Dobbins and Cam Akers). Some who avoided the sophomore slump still failed to make progress in key areas of their games (for example, Jonathan Taylor as a receiver). The 2020 running back group is probably being overrated a little bit by the dynasty community but is still really good. Travis Etienne and D'Andre Swift still look like potential stars. Akers and Dobbins could easily bounce back as juniors. Taylor is very talented, if a bit one dimensional. Eno Benjamin, Chuba Hubbard, Najee Harris, and Kylin Hill all look like potential Day 2 prospects as well.
Meanwhile, we could be looking at the best wide receiver class since 2014. While some of the 2020 backs disappointed last year, the top 2020 wide receivers almost all made significant leaps. The class once thought to be solid but weaker than the 2019 group, now looks like it will be substantially better. Already highly regarded prospects like Jerry Jeudy, Henry Ruggs, Tee Higgins, CeeDee Lamb, and Jalen Reagor all made big leaps as sophomores. At least half of them should be first round picks. Plus, Laviska Shenault and Tylan Wallace came out of nowhere to have monster sophomore seasons and look like first or second rounders. Last but not least, there is a solid group of senior prospects like Tyler Johnson, Bryan Edwards, K.J. Hill, and Collin Johnson who would have likely been mid-round picks in 2019 but decided to return to school to try to improve their stock.
It may go against conventional wisdom, but don't be afraid to target some of these top wide receivers over the second tier backs like Dobbins, Benjamin, and Akers. Henry Ruggs is an example of a player who probably isn't getting enough hype.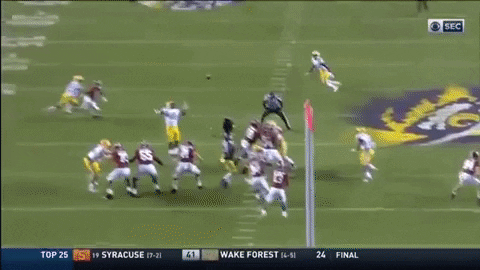 For Superflex leagues, the quarterback position also looks above average. Tua Tagovailoa and Justin Herbert are likely to be Top-10 overall picks and Jake Fromm shouldn't be too far behind them. Plus, there are enough other high-upside prospects to assume another first rounder will emerge between now and next April.
With the three main fantasy positions all tracking to be above-average, it is easy to see why 2020 rookie picks are such valued commodities. It would be wise to start valuing those potentially early 2020 1st rounders like premium assets at least on par with talented young players like D.J. Moore and Kerryon Johnson.
The 2021 Class
Any discussion of the 2021 class has to start with the Clemson duo of quarterback Trevor Lawrence and wide receiver Justyn Ross. The two dominated the college football playoffs and look like special prospects. It feels crazy to say two years in advance, but it would be surprising if Lawrence isn't the #1 overall pick of the 2021 draft and Ross shouldn't have to wait much longer in the green room than his quarterback.
Want to see the rest?
Enter your email below to become a FREE Insider
and view the full version of this page.
We will never spam you. Ever. Unsubscribe at any time.
"Footballguys is the best premium
fantasy football only site on the planet."
Matthew Berry, ESPN
With our 30-day
Money Back Guarantee
you have nothing to lose
---