Too Risky At Current ADP
Alex Collins has seen his ADP climb throughout the offseason and is now being drafted in the top-40 overall. If he was locked into the bell cow role for the Baltimore Ravens, the high ADP would be entirely justified. However, there are enough questions about how involved Collins will be as a receiver and how much Kenneth Dixon and Javorius Allen will eat into his touches that the risk is not worth the reward at his current ADP. If Collins is limited to a two-down role with Allen or Dixon handling most of the receiving work, he will have a hard time putting up RB1 numbers (especially in points-per-reception leagues). There are safer options with similar or greater upside (T.Y. Hilton, Stefon Diggs, Zach Ertz, and Rashaad Penny) being drafted in the same range.
---
How much will Collins Contribute as a Receiver?
The million dollar question for Collins' fantasy prospects (especially in PPR formats) is how involved he will be as a receiver? True three-down running backs are the most valuable commodity in fantasy football. The top nine fantasy running backs in 2017 each caught at least 53 passes. Does Collins have realistic 50-catch upside? If he can hit the 50-catch benchmark in 2018, he is a near lock to finish as an RB1.
Collins has shown good hands and adequate ability as a receiver. While he caught just 23 passes in 2017, the Ravens increased his role in the passing game down the stretch. He had 20 receptions in the final seven games and that pace over a full season would put him in position to make good on his lofty ADP. However, Collins did not do much with his chances in the passing game. His catch rate of just 63.9% (23 receptions on 36 targets) was well below-average at the running back position. So too was his 5.19 yards per target.
While Collins has some receiving ability, he has not shown the diverse route-running skills we've seen from Javorius Allen and Kenneth Dixon. Allen also ranked as the seventh-best pass blocking back in the NFL according to ProFootballFocus, which should help him remain in the rotation and eat into Collins' opportunities.
Unlike most of the other backs being drafted in the top-40 overall, Collins is not a lock for the go-to role. Collins is certainly the favorite to lead the Ravens backfield, but Kenneth Dixon is a wild card and it wouldn't be a major shock if Dixon emerges as the top back. Dixon was selected by the Ravens with the 134th pick in the 2016 NFL Draft. Baltimore passed on Collins, who went off the board soon after (pick No. 171). While Collins languished on the bench in Seattle as a rookie, Dixon showed flashes of the ability that made him a popular fantasy sleeper. In fact, Dixon led the league in missed tackles per touch in 2016.
Dixon was poised for a major role in 2017 before suffering a season-ending meniscus injury just before training camp. It was Dixon's injury that opened a roster spot for Collins. Dixon is back and has reportedly been impressive in OTAs. Even if Dixon doesn't unseat Collins from the lead spot, he could still carve out a significant enough role to limit Collins' fantasy impact.
The shadow of Lamar Jackson looms large over the Ravens offense in 2018 and it is unclear if his presence will be a positive or negative for Alex Collins. While Joe Flacco is expected to open the season as the starter, the Baltimore coaching staff has made clear that Jackson is too explosive not to see the field in some capacity. Jackson could make an impact early with manufactured touches as a wide receiver, running back and as a quarterback in short-yardage packages. While Flacco starts, Jackson could steal some touches and red zone opportunities from Collins and the other skill position players.
Unless Flacco makes major improvements, he may not be long for the starting lineup. A Ravens offense with Jackson at the helm would be totally different and change the calculus for all of the surrounding players. Jackson could certainly have a positive impact on the running back production. The threat of Jackson pulling the ball and running on zone-read plays forces the defense to defend the edges and would open up bigger running lanes for the backs. However, Jackson was incredibly effective running down around the goal line while at Louisville and could also vulture rushing touchdowns from the running backs (similar to the way Cam Newton does in Carolina). Jackson's rushing ability might also mean fewer receptions for the running backs if he instead tucks it and takes off when his primary reads are covered.
Lamar Jackson vulture touchdowns?" width="320" height="180" />
Projections
| YEAR | Projector | G | RSH | YD | TD | REC | YD | TD | FumL |
| --- | --- | --- | --- | --- | --- | --- | --- | --- | --- |
| 2018 | | 15.3 | 216.0 | 918 | 6.3 | 28.0 | 218 | 0.9 | 2.5 |
| 2018 | | 16.0 | 220.0 | 960 | 8.0 | 30.0 | 230 | 0.0 | 2.0 |
| 2018 | | 16.0 | 225.0 | 1000 | 6.0 | 26.0 | 210 | 1.0 | 1.0 |
| 2018 | | 16.0 | 227.0 | 1000 | 6.6 | 21.6 | 169 | 0.5 | 2.7 |
Final thoughts
Alex Collins got lucky last year when Kenneth Dixon got hurt and the Ravens gave the former Seahawks' castoff a shot. He ran well and was a productive piece of an otherwise uninspired offense. It's entirely possible Collins will remain the lead back and produce enough on the ground to justify an investment as a fantasy RB2. However, his performance came in a limited sample size, and changes are (or should be) afoot in Baltimore. The biggest wild card is whether Lamar Jackson unseats Joe Flacco. If he does, the entire construct of the offense would be subject to change. In order for Collins to justify his current average draft position, he needs to remain the primary ball-carrier and has to at least share the receiving duties with teammates Dixon and Javorius Allen. There are lower-risk, higher-upside choices going in the same range, which makes Collins a less compelling choice in both standard and PPR-leagues.
---
Other Thoughts:
A Great Breakdown of Collins' excellent 2017 performance by Danny Kelly (with gifs)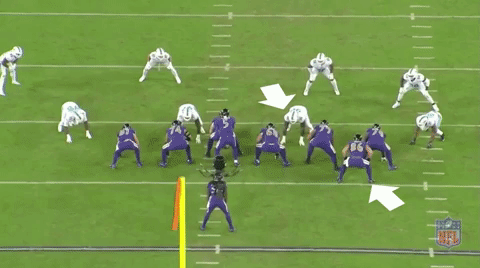 ---
Thoughts from the Footballguys message boards:
"One of the more puzzling transactions of the season last year was when SEA (and RB needy team) waived Collins only 1 year after drafting him. He was one of the lone bright spots on a dismal BAL offense. A few points on Collins:
1) Dixon returning clouds his workload to a decent degree. Is this a full-blown RBBC, or did Collins do enough to be the primary? Understand that Collins has done more for the Ravens than Dixon has.
2) In his last 3 games, Collins seemingly gassed out with sub 3.0 YPC in his last 3 games.
3) Collins could yield touches and still be productive for FF purposes. Once he claimed the starting job, his final 12 games saw him average 18.33 touches/game
IMO, Collins has an underrated floor but questionable ceiling. He's likely going to top out as an RB2...but I think that's also a fairly safe projection for him. At the same time, he should be a guy you settle for (happily), not target."
"Collins is intriguing to me because he was very successful on an otherwise pretty bad offensive team last year. Given how he ended the year on the ground, I wouldn't be surprised if people were a bit lower on him than they should be. However, he was targeted more in the air during those weeks, showing the team can trust him as a receiver.
I think Collins can be an RB2, and if he can continue to get targets in the passing game he might even flirt with low-end RB1 status. He has potential to be one of the fewer true bell cows in the league, and given his ADP I think that's some major value."
"I loved Alex Collins as a prospect and was very disappointed when he kept falling on draft day and ended up in a crowded Seattle depth chart. Maybe I was just falsely impressed at his frantic mini-beast-mode running style. When he was released by Seattle I assumed that he was bound to be one of those guys that bounced around for a while and then disappeared.
When he got his chance in Baltimore the experience of watching his college film came back to me in a flash. He's so much fun to watch as he bounces into and off defenders, keeping his legs churning until he finds some space and then he explodes. Is he a special back? No, not really. However, he runs hard, has some very good balance and has no quit in him. If he sees volume, he'll rack up yards. I think he will see volume with only Kenneth Dixon (injuries and suspensions have derailed his career thus far) and the versatile but mediocre Buck Allen as competition.
Sadly, I traded him away this offseason in the two leagues where I owned him. Not because I do not like him -- I do -- but because he needed to be included into some bigger deals to get them done."
"Love the player, not the situation. Collins showed last year he has the talent to be an early running down back and was criminally (IMHO) underused. The team had plenty of concern (largely warranted) about his fumble issues which for me dampens Collins' ability to be a true 3 down bell cow -- this is certainly something that could change with trust but that takes time and I am not sure if Collins had the consistent opportunity to get the reps to prove he can hold on to the ball until really late last season.
I also think given the workload distribution that the team likes having RB options -- Buck never truly went all the way away, and the return of Dixon who has decent versatility means to me that I think Collins' usage is likely to be similar to last year.
I do think Collins has the talent to be an every-down back. I don't think he will be given that chance in this offense with the other personnel in the backfield at the team's disposal. This could change if Collins clearly outperforms consistently (and holds on to the rock) but I'd be wary of taking him a lot earlier than his ADP is on that expectation alone."
---
More articles from Dan Hindery
See all
More articles on: Analysis
See all
More articles on: Baltimore Ravens
See all
More articles on: Player Articles
See all