Positives
The Bengals are counting on Joe Mixon to prove drafting him is worth the negative press associated with his character issues.
Giovani Bernard's recovery from ACL surgery provides Mixon the window of opportunity he needs to secure the starting job, or at least open the season in Bernard's usual pass catching role.
Jeremy Hill is Mixon's only healthy competition. Hill has been awful at doing anything besides falling into the endzone since his breakout 2014 season.
Some of the best scouting minds in the business see Mixon as a special player, capable of making a huge impact both on the ground and through the air.
Negatives
It's hard to remember a highly drafted rookie entering the league with bigger questions about his character than Mixon.
Mixon's receiving skills overlap with Bernard's and Bernard is the better pass blocker. Once the veteran is healthy, Mixon's receiving upside could be limited.
Hill's career is trending downward, but he's been the busiest goal line back in the league over the last three seasons, this side of LeGarrette Blount. Why would the Bengals be quick to abandon what's been working for them at the goal line?
Cincinnati's offensive line is projected as the worst in all of football.
Mixon is being drafted as if none of these cons exist.
A Skyrocketing Price Tag
Immediately following the NFL Draft, there weren't many fantasy analysts touting Cincinnati as an ideal landing spot for Joe Mixon. The prevailing narrative implied Jeremy Hill and Giovani Bernard -- a pair of former second-round draft picks -- would block Mixon's path to a significant workload, resulting in a headache-inducing three-man platoon for fantasy purposes.
It didn't take long for the consensus to shift. Drastically.
Mixon wins the job outright midway through August, starts Week 1. Feel Kareem has a taller hill to climb. May takeover by midseason.

— Brad Evans (@YahooNoise) June 8, 2017
Joe Mixon is @MatthewBerryTMR's breakout candidate for the year. Could see him replacing Jeremy Hill this season.

— 06010recap (@06010recap) June 21, 2017
Would mean Gio also sits out camp, putting Joe Mixon in 1-on-1 battle with Jeremy Hill for #Bengals starting RB job. https://t.co/W9cRrHlCUq

— Evan Silva (@evansilva) June 13, 2017
Joe Mixon looks like 'a beast' this offseason https://t.co/AeWx25mBrT
— Rotoworld Football (@Rotoworld_FB) June 15, 2017
Mixon has officially been crowned the mainstream's rookie breakout candidate coming out of OTAs, spiking his ADP by almost five full rounds since mid-May.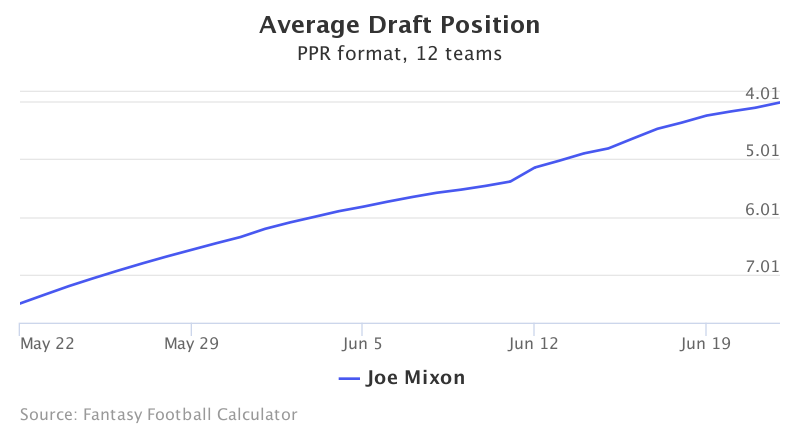 Joe Mixon" />
The time for taking a swing on Mixon in the middle rounds and hoping he can emerge from a committee as a reliable fantasy starter has passed. Your choices are to draft Mixon as one of your starting running backs before he plays his first NFL game or fade the hype and draft Hill or Bernard as late round values.
Reading the Tea Leaves
Let's start with elephant in the room. In 2014, Mixon shattered a young woman's face with a ferocious punch -- and was caught on camera doing it. The incident (justifiably) took Mixon off the draft boards of about half the teams in the NFL, but the Bengals were still willing to invest a second-round pick in him (no. 48 overall). For Cincinnati's brass to make this decision despite the inevitable questions it would bring about the organization's moral character, it's a fair assumption they expect (need?) Mixon's baggage to be outweighed by immediate on-field production.
Given his three-down skill set, it also feels safe to assume the Bengals looked at Mixon and saw an opportunity to add an element of unpredictability to their offense. Bernard has averaged 4.5 targets per game in his four-year career, compared to Hill's 1.5 targets per game in the 39 games he's played with Bernard active. When Bernard and Hill are both healthy, it becomes easier for defenses to figure out how to attack the Bengals, based on which of them is lined up in the backfield. Mixon has shown the ability to run through and around would-be tacklers and is lethal catching passes out of the backfield. The more Mixon is on the field, the more off-balance the opposing defense becomes.
With news Bernard may not be ready for the regular season opener after tearing his ACL last November, Mixon has a clear path to immediate fantasy value. As Rotoworld's Evan Silva pointed out in his tweet above, Mixon will soak up most (if not all) of Bernard's first-team reps in training camp, giving him an extended audition to prove himself to the coaching staff. At the very least, his pass-catching ability makes Mixon the obvious favorite to open the year filling Bernard's cleats as the team's primary receiver out of the backfield -- a role that produced RB13, RB16, and RB17 PPR finishes from 2013-2015, respectively.
No one should be arguing, at this point, Mixon won't get the opportunity to start the season with a chance to live up to his current ADP. The relevant question is…
Can Mixon maintain RB2 production all season?
Let's explore whether the scenarios that could put a wrench in Mixon's season-long outlook should give fantasy owners pause before drafting him as a RB2.
Giovani Bernard Gets Healthy
We won't know until much later in the preseason how Bernard's rehab is progressing. And even if early reports he's likely to avoid the PUP list are correct, it's fair to wonder if he can return to his previous form at all next season. Jonathan Bales did a study on post-ACL surgery running backs and found the year following surgery, we can expect them to play about 35% fewer games and suffer a near 30% decrease in fantasy points per game from the previous year. Full recoveries the year following ACL surgery are the exception for running backs, but they're not unprecedented. So when considering Mixon's season-long value, we still need to allow for the possibility Bernard reprises his role on third-downs. Bernard, after all, is no slouch as a pass catcher. Since he entered the league in 2013, Le'Veon Bell, Matt Forte, and Jamaal Charles are the only running backs to average more receptions per game.
There's also no question Bernard is the best pass blocking back on the Bengals roster. Hill is notoriously poor in pass protection, and while PFF graded Mixon the most efficient pass blocker among the consensus top-4 draft-eligible running backs, several scouts have raised questions about this facet of Mixon's game, including our own Matt Waldman on his RSP Film Room Blog. Mixon wouldn't be the first rookie running back to get pulled on third downs in favor of a veteran because he's unreliable in pass protection.
Of course, if Mixon's best NFL comparable is truly Le'Veon Bell, as NFL.com's Lance Zierlein suggested in his draft profile, Bernard's health won't make a difference. The Bengals could keep Bernard in to block and split Mixon out wide to take full advantage of the latter's route running ability and terrific hands.
It's also (more?) conceivable Bernard gets healthy and Hill ends up the odd man out. Mixon and Bernard would make for a versatile 1-2 punch that would keep opposing defenses guessing.
Jeremy Hill Doesn't Just Go Away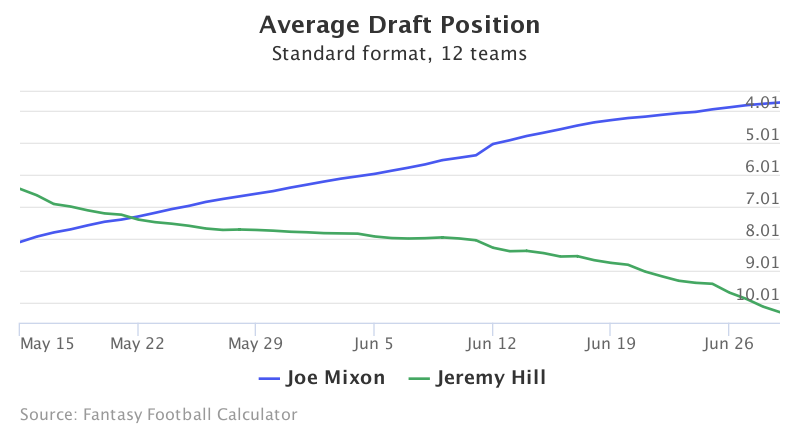 Joe Mixon, Jeremy Hill" />
Not surprisingly, as Mixon's ADP has picked up steam, Hill's has plummeted. This trend suggests fantasy owners assume Mixon will do more than just usurp Bernard's role. Otherwise, how do we explain a running back who has never returned worse than fourth-round value in his career while playing alongside Bernard, getting drafted in Round 10?
While he's remained useful in fantasy leagues, Hill has been more or less terrible since his promising rookie season. In 2014, Hill burst onto the scene following a Week 8 injury to Bernard. Over the second half of the season, he ran for 929 yards (5.4 yards per carry) and six touchdowns, placing him fifth in cumulative running back fantasy scoring.
Unfortunately, Hill's rising star would flame out quickly. In 2015, he managed only 3.6 yards per carry, which is remarkably bad given the performance of the Bengals offensive line that year. Cincinnati led the NFL in Football Outsiders' Adjusted Line Yards -- a metric that assigns offensive line responsibility to each running back carry. Bengals running backs were tackled at-or-behind the line of scrimmage on only 17% of their carries -- the third-lowest rate in the league -- and still, all Hill could manage was three yards and a cloud of dust.
2016 was more of the same. Of the 42 running backs who carried the ball at least 100 times last year, only Matt Asiata had a lower percentage of his runs go for 10+ yards than Hill's 5.9%. Once again, Hill failed to break 4.0 yards per carry. And once again, his fantasy owners were bailed out with a bunch of short yardage touchdowns.
Therein lies the problem with Hill for prospective Mixon owners. As poorly as he's played recently, Hill has to be considered one of the most effective goal line runners of the last three years. Since 2014, the league average touchdown conversion rate on carries from inside the five-yard line is about 38%. Hill has converted goal line touchdowns at a 46% clip while trailing only LeGarrette Blount in goal line rush attempts over the same span.
But much like Bernard's health may turn out to be a non-issue for Mixon on third-downs, so too could Hill's theoretical role at the goal line and in short yardage. Last season, Hill's goal line conversion rate dropped to a career-low 37.5% -- essentially the three-year league average. He was also sub-par in short yardage, converting first downs on carries with two yards or less to go on 61% of his opportunities. 18 running backs have totaled at least 40 of these short yardage carries over the last two years, and only Blount (58.7%), Frank Gore (56.4%), and Chris Ivory (50%) have converted them into first downs less frequently than Hill.
If Hill is only average at the goal line, ineffective in short yardage, can't break long runs with regularity, has trouble pass-blocking, and isn't a threat to catch the ball, the case for him not going away suddenly becomes the case for Mixon winning the Bengals early-down job in camp. If Mixon takes on the lion's share of the early down carries, in addition to the passing-down work he's a near-lock to receive (at least early in the season), there might not be five running backs in the league with a higher fantasy ceiling.
The Offensive Line Dooms the Entire Bengals Running Game
It's possible to craft the narrative Mixon's backfield competition in Cincinnati is actually a positive for his 2017 fantasy value. The Bengals offensive line? Not so much.
Since Bernard entered the league in 2013, Cincinnati backs have enjoyed running behind one of the most consistent run-blocking units in the league. Their adjusted line yard ranks over the last four seasons are 11th, 11th, 1st, and 14th, respectively. A few weeks back, our resident offensive line maven -- Matt Bitonti -- privately shared his initial June rankings with the rest of the staff. He had the Bengals ranked 32nd.
Pro Bowl tackle Andrew Whitworth left Cincinnati for the Rams in free agency. Shortly thereafter, former first round pick, Kevin Zeitler, signed with the Browns. Whitworth's replacement at left tackle, 2015 second round pick Jake Fisher, has looked lost as a pro. 2015 first rounder -- Cedric Ogbuehi -- will start at right tackle. His career can best be described as an abject horror. According to PFF, Ogbuehi allowed nine sacks and 43 pressures on only 680 snaps last season. Russell Bodine is widely considered one of the worst centers in the league. Veteran right tackle Andre Smith will replace Zeitler at right guard. Smith hasn't played the position since junior high school and his play has fallen off in recent years regardless. At least left guard Clint Boling rounds out the starting unit. Boling is an above average run blocker who can hold his own in the passing game.
Clearly, this is a less than ideal situation for any Bengals running back. For Mixon specifically, it means getting up to speed quickly as a pass blocker takes on added importance. Also, he'll have to answer questions about being too patient as a runner. Mixon won't be able to wait for a clear hole before turning on the jets if the O-line isn't opening up clear holes.
If you really want to search for a silver lining, it could be argued Andy Dalton will be forced to get the ball out quickly, which benefits Mixon (or Bernard) on short dump-offs. But no matter how you look at it, the Bengals offensive line is a major obstacle for the team's running backs.
Final Thoughts
"If you want to hear about the football player, I'll tell you what he is. The football player is a top-15 pick in any draft. ... What I'm trying to say is he's pretty darn special as a football player." -- Mike Mayock
"Mixon has the talent to be an every-down, all-day running back with the potential to take over a game on the ground or through the air. He can play in any rushing scheme and can be moved all over the field as a matchup option." -- Lance Zierlein
"Mixon has the skills to render Giovani Bernard and Jeremy Hill obsolete in Cincinnati." -- Matt Waldman
Those opinions come from three of the most trusted names in the scouting community. In addition to Zierlein comparing Mixon to Bell, Player Profiler lists his closest athletic comparable as Ezekiel Elliott. There's clearly a reason Mixon has picked up so much buzz early in the summer. Does that mean you should be comfortable taking him with your third round pick if you were drafting tomorrow?
The answer to that question depends on your risk aversion and early-round roster construction. Bernard, Hill, the Bengals terrible offensive line, and Mixon's exceptional talent give his season-long projections an extremely wide range of possible outcomes. Drafting Mixon means you're essentially taking a home run swing with your third-round pick, and praying he becomes the next Bell or David Johnson. It's obviously a high-risk plan, but one that could pay off if you surround him with the right mix of players.
Suppose you're lucky enough to land a top-3 pick, which guarantees you Johnson, Elliott, or Bell. On your next pick, you lock in a solid mid-tier WR1 like Doug Baldwin or Dez Bryant. With bankable production at the two most important positions sewn up, taking a chance on Mixon's ceiling in the third makes sense. If he does render Bernard and Hill obsolete, your team gains huge leverage on the rest of the league. And knowing clear-cut starters like Carlos Hyde, Isaiah Crowell, and Marshawn Lynch are usually available in the fourth round (or later) means you can back Mixon up with a solid RB3 and mitigate the risk if he isn't the impact player many analysts expect him to be.
On the other hand, if you're picking in the middle of the first round and go with an elite wide receiver like Julio Jones, it's likely you'll be looking to running backs associated with questionable offenses to fill your RB1 slot in the second round. If you're headed into the third round with Leonard Fournette, Jordan Howard, or Todd Gurley as your RB1, taking Mixon in the third becomes a decidedly poor gamble. When two of your first three picks bust, most times it will dig too deep a hole to climb out of. Even if you did draft another back in the fourth or fifth round to try reducing the risk, now you'd be missing out on wide receivers and tight ends you need to balance your starting roster.
Ultimately, if you decide to follow only one backfield closely during training camp and the preseason, make it the Bengals. By late August, it's likely Mixon's current ADP will look silly no matter what. If Bernard progresses quickly in his rehab and/or Hill has an impressive preseason, the ceiling so many people are dreaming of for Mixon becomes capped. But if it's clear Mixon will be heavily involved as both a runner and receiver, don't be shocked if he's going in the early second round by the time most fantasy drafts are taking place.
Projections
Other Viewpoints
In ESPN's Fantasy football sleepers, busts and breakouts for 2017, Ken Daube writes Mixon is a low-end top running back, regardless of Hill and Bernard's involvement:
"From a talent perspective alone, Mixon is, in my opinion, not only the best running back from this year's draft class, but also the most NFL-ready back. He is a versatile threat who combines 4.5 speed in the 40-yard dash with plus-rated receiving skills. He might be a poor man's Le'Veon Bell during his rookie campaign because of the presence of other backs on the Bengals' roster, but that's enough to project him as a low-end top running back. If he performs well enough to make the others irrelevant, watch out."
The Fantasy Authority's Kai Brewer thought Mixon's ADP was absurd...when it was still in the fifth round:
"With less opportunity than 1st round picks Fournette and McCaffery, no other rookie backs deserve a 5th or 6th round draft slot in fantasy. You can, however, talk me into a 7th or 8th round price. If the preseason rolls around, and Mixon is dubbed the starter over Jeremy Hill, who remember has been a top 20 fantasy back every year of his career, we can revisit this conversation. Until then, I'd much rather have Dalvin Cook 10 RBs and two rounds later, who was also a second-round pick, also has potential offensive line flaws and also has a limited quarterback. I just can't pass up WRs like Julian Edelman and Golden Tate, or even more proven RBs with just as much upside like LeGarrette Blount, Bilal Powell, or even Cook at Mixon's ADP."
---
More articles from Phil Alexander
See all
More articles on: Forecast
See all
More articles on: Spotlight
See all